You might be planning for a trip to the beach/seashore during the holidays with your loved ones during the hot summer season to enjoy the cold sea breeze. Well-equipped with essentials such as towels, sunscreen lotion, huge umbrellas, balls, food, and drinks, you are ready to make it a memorable trip. If there are kids and pets, the packing becomes more elaborate.
But beyond packing, carrying these things from the car to the beach becomes more hectic. As the number of things increases, the multiple trips made back and forth increase too. No more worries now as we have made a buying guide on the best beach carts in the market in 2023. Buying one would help you carry all your essential items in one go without any hassle.
Best Beach Carts to Buy in 2023
10. Wheelez Beach Cart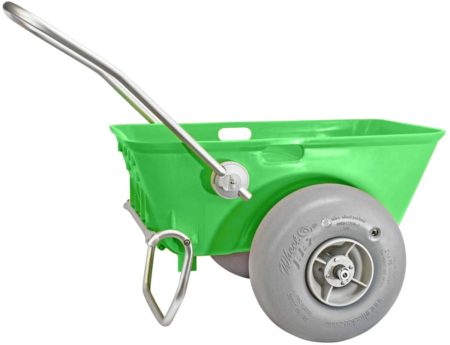 The wagon might look like a plaything to many when seen for the first time as it comprises of oversized wheels and a neon green cart. But on close observation, this beach cart designed by Wheeleez is the go-to choice to transport all your essentials to the beach.
The tires are made from 100% USA materials and can be entirely removed without any tools for aiding in storage and transportation. Besides being the best choice for beach use, the product could also help you in gardening chores and other home-related jobs.
Key Features
Helps in transporting many things in one go over different terrains including sand
Easy to remove and store handlebars, kickstand fold, and wheels
Good stainless steel material used in frame design and marine-grade anodized aluminum make it perfect for use in beaches
Can bear up to 220 lbs of load
9. Red Collapsible Wide Wheel Wagon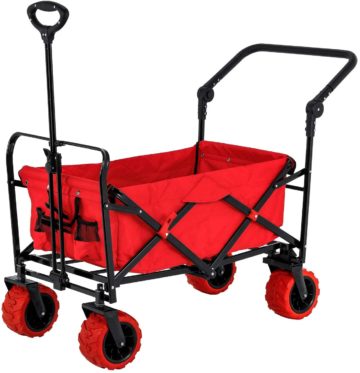 The red color, black heavy-duty steel frame, and 600D polyester fabric make the TCP Global wagon a delightful product among consumers looking for a durable cart that could be moved around easily on the beach or park. The product comes with two handles- a telescopic pull handle and a push angle that could be adjusted to any angle providing smooth movement of the cart.
Rubber wheels improve traction and enable smooth movement even over uneven and sandy beach surfaces.
Key Features
Easy to open and close with the pull of a strap that's provided at the center of the cart
2 cup holders and a storage pouch
The wagon is available in six different attractive colors
100% refund guarantee if the product is found unsatisfactory within 1-year of purchase
8. YSC Multi-color Beach Wagon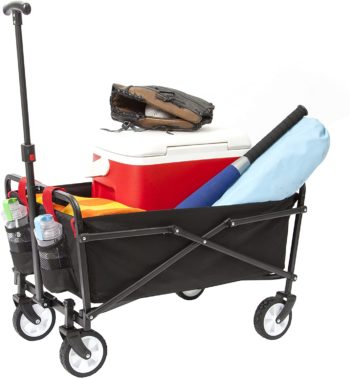 If you are looking for an extremely lightweight wagon to meet your demands, don't look beyond the YSC folding cart as it weighs only slightly more than 10 lbs. Despite this lightweight, the cart supports up to a maximum weight load of 150 lbs.
Besides helping you carry your beach essentials while on an outing, this cart suits various other purposes as well-grocery shopping or park outings too! Simply fold it, put it in your car trunk and carry it around easily.
Key Features
The lightweight design is a conscious effort by the manufacturer to help people with back pain problems, muscle problems and older people to use the product easily without many efforts
High-quality solid frame and fabric (600D polyester fabric) makes the product durable and easy to maintain
No assembly required and easy to open and fold within 3 seconds
7. Rio Beach Cart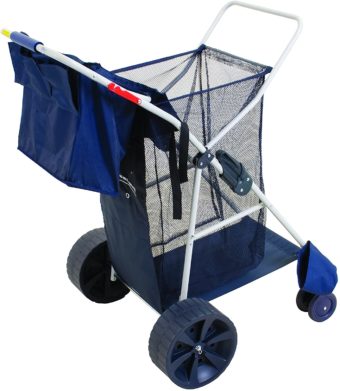 Rio is a brand well-known for bringing together fashion, innovation, and comfort together, and the beach cart designed by them comes with ample loading space and excellent design having all different user requirements in mind. The Rio wonder wheel cart is big enough to hold up to 4 full-size beach chairs. The big-sized storage mesh basket, the beverage holder, side strap and pockets that enable fitting a big umbrella and the detachable mesh tote makes it a perfect choice for a big family outing helping you stay hands-free!
The big wheels make it easy to move the cart in the beach sand irrespective of whether it is dry, wet, shallow or deep.
Key Features
Easy to fold and store
Big-size removable tote bag
Maximum weight capacity of 100 pounds
Strong steel frame and oversized wheels (two movable front wheels and two fixed back wheels)
6. Mac Sports Beach Utility Cart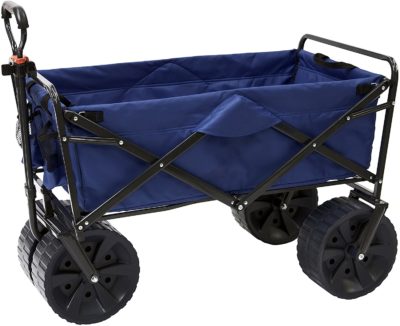 You are done with packing all that you need for the beach trip but quite unsure about how to transport them from your car. Generally, this is a commonly faced by many, and the Mac Sports cart offers the perfect solution with its secure transportation facility (provided by extra-large wheels), adjustable handles for easy maneuvering of the cart, and maximum cart of 50 pounds only in deep sand.
The equipment is the study and durable as it is made from a high-quality black steel frame, making it the ideal choice to hauling things to the beach, park, or outdoor events.
Key Features
Two mesh cup holders keep your beverages secure without any spillage problems
The 600D attractive blue fabric is easy to clean, and UV- and mildew-resistant
Support up to 150 pounds of weight load
Conveniently fits inside car trunks and safely provided with a carry case
5. Tipke Marine Cart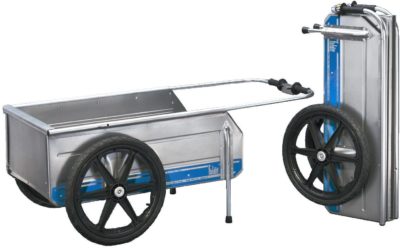 The cart looks study at the first go, and contrary to the belief that looks could be deceptive, this marine cart can hold up to 330 lbs of weight quickly. The Fold-it cart is well-designed to spread the load evenly and provided with big pneumatic tire wheels that offer optimal stability in the most uneven surfaces.
The Tipke cart is a multipurpose product that could be used to maneuver things around while on camping, boating, or beach trip.
Key Features
As the name suggests, the cart is apt for use in the marine environment as it is made of marine-grade aluminum that prevents any rust or corrosion.
Two years warranty
Compact in size occupying less than 2 square feet of space
4. BEAU JARDIN Heavy Duty Push Cart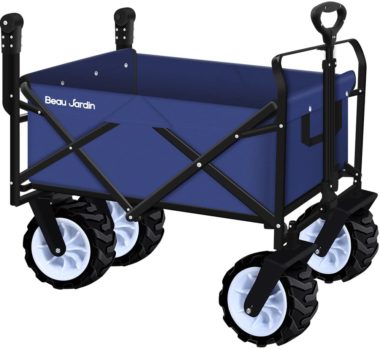 As the name suggests, the BEAU JARDIN folding cart looks neat and beautiful made of 600D polyester fabric. At the same time, the frame comprises sturdy black steel making the product stable, easily washable, and durable. The product comes with four oversized wheels whose spacing could be adjusted to suit different road conditions. The telescoping handles add more comfort and ease of movement among most surfaces and suitable for use on various occasions, including outings, beach vacations, or shopping too.
Key Features
The cart could be set up in seconds as there is no need to assemble it
The cart is easily foldable and extremely compact that it could fit into your closet or the car trunk making it convenient for transportation
Ergonomic handles that could be set at any angle
3. Timber Ridge Big Wheel Beach Cart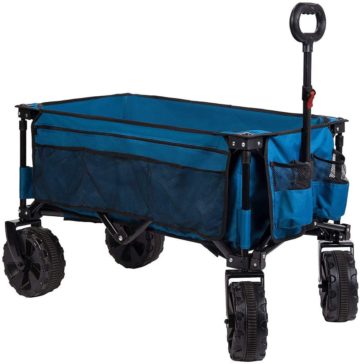 Planning to go to the beach, park, or camp outdoors? Don't worry about taking all that you need as the Timber Ridge collapsible cart is at your disposal, ready to withstand up to 100-150 lbs of weight. It is necessary to mention the four oversized wheels provided in the wagon, which help in smooth movement- the two front wheels rotate a full 360 degrees while the back wheels are fixed.
The beach cart is compact and comfortable to fold and store in your car trunk, giving way for multiple other items that could be loaded onto the car. Made of heavy-duty steel and good-quality fabric, the Timber Ridge cart could be used on most of your outing trips to the stadium, beach, or garden as it comes with adjustable handles.
Key Features
Semi-closed design helps in storing different items of varying sizes and shapes
Besides having 2 cup holders for storing liquid edibles, the wagon is provided with a side storage bag that helps people keep their items in a well-organized way.
The company has also smartly designed the cart with three-fold pads that could be placed at the bottom for stacking items in a neat way
2. Sekey Collapsible Bright Red Outdoor Wagon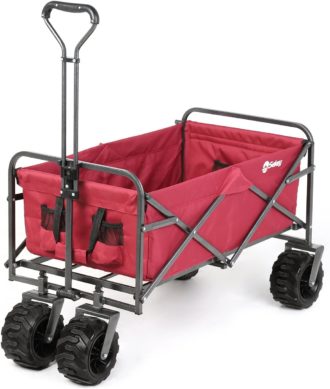 The Sekey wagon is a multipurpose wagon that helps in carrying all that you want with much ease- right from gardening tools and fishing stuff to groceries and camping items. It has a heavy-duty steel frame that withstands weight up to 265 lbs and big wheels that aid in a smooth movement.
The tires are made of PU containing bearings that make the wagon suitable for most kinds of roads, including uneven surfaces.
Key Features
The 600D double-layered Oxford fabric is durable and also easy to clean as it can be removed in a jiffy
Zero assembly required helping users set it within seconds of unloading from the back of your car trunk.
The cart comes with adjustable handles and also has two mesh cups that help in storing beverages without spilling over
Carry bag provided for storing convenience
1. Mac Sports Outdoor Wagon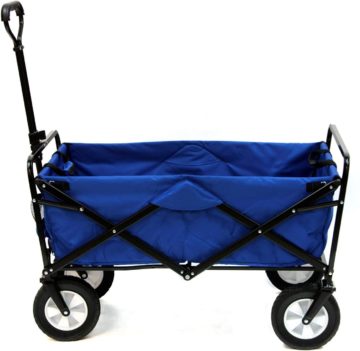 The blue outdoor wagon from Mac Sports matches the color of the sea and is as cool as a cucumber to our eyesight. The manufacturers, Mac Sports, are trendsetters in innovative wagon manufacturing besides being experts in other outdoor holiday products like chairs and hammocks.
We require a wagon to make things easy, and hence, it is also expected that the product purchased could be set up in seconds without the need for any assembly that could consume time. The Mac wagon is the perfect choice for this and even occupies as minimal space as possible-only 8-inch thickness when folded and placed inside your vehicle. It also comes with a carry case that makes it easy to carry around without fears of stains or ruins.
The product is only 22.5 pounds in weight but can hold up to 150 pounds as it is made of a heavy-duty steel frame that guarantees longevity. The wagon should be an apt choice for transporting things on your trip to beaches, parks, or even concerts.
Key Features
The 600D fabric is easy to clean and maintain. It is also resistant to UV and mildew
Keep your beverages without spilling using the two mesh cup holders provided
The wagon comes with an adjustable handle for easy transportation
Don't worry about moving around the beach or park as the product comes with smooth glide wheels that aid in easy transportation
Choose the best beach cart that serves your purpose from the list mentioned above, keeping in mind all your requirements. It is essential to buy a good-quality beach cart that's strong, sturdy, durable, and compact to help you enjoy a fabulous vacation trip.