You can now easily stream on your TV or connect your headphones and speakers to the TV using the Bluetooth transmitters. The TV transmitters are the most convenient transmitting devices since they easily plug and boost signal connection. Some models have a dual connector where you can integrate with two devices at the same time.
However, there are hundreds of models of TV transmitters which makes it challenging to find the most convenient model, especially for beginners. But, to make your buying process easier, here is a review of the top ten best Bluetooth transmitters for TVs.
Best Bluetooth Transmitters for TV Review
TaoTronics Bluetooth 5.0 Transmitter and Receiver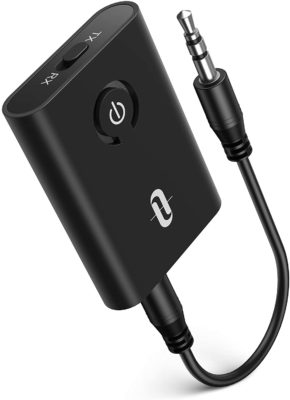 This is a 2 in 1 transmitter that also consists of a receiver to send audios through it. If you have been having delays if you connect other transmitters on your TV, it is time to change to this one as it has very low latency compared to other brands. This is a transmitter you can tag along when traveling since it is small and light in weight.
This size also saves space when connected to your TV or other devices. Connecting this transmitter to your headset is easy since it has Bluetooth connection mode.
Special features
This transmitter has receiver settings
It is light and compact
It is multifunctional
Connects with TV, PC, and even gaming and music devices
ZIIDOO Bluetooth 5.0 Transmitter and Receiver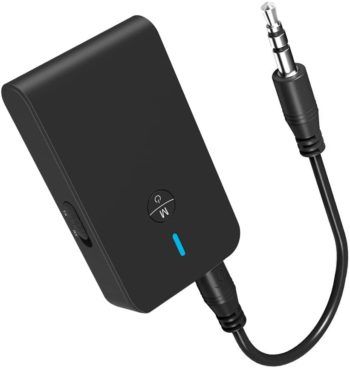 Besides connecting this Bluetooth transmitter with your TV, you can also connect it to your audio devices like MP3 to listen to your favorite music while on the go. It is a 2 in 1 transmitter essential for transmitting and receiving audios as well.
You can tag it to the gym so you can listen to music since it is compact and light as well. This gadget delivers HD stereo sounds plus reduces delays significantly.
Special features
You can use this transmitter with a car
It is quite portable
Works as a receiver too
The transmitter can connect with multiple video and audio devices
HAVIT Bluetooth 4.1 Transmitter Receiver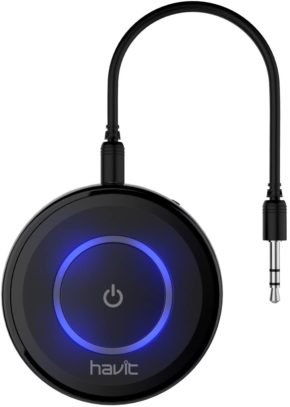 This TV Bluetooth transmitter has a wide range of connection since it can connect to most devices with a 3.5 mm port. The gadget has powerful features like the CSR8670 chip with aptX that support the Bluetooth connection to reduce latency.
Apart from using this transmitter to transmit audios between devices, it is also useful as a receiver whereby you can connect a headset for audios from TV or gaming consoles. Another outstanding feature about this transmitter is the multiple pairing modes where you can pair it with two headphones or speakers.
Special features
The battery on this transmitter can last for 14 hours nonstop
The Bluetooth can pair two gadgets at ones
Connect to TV, other video and audio devices
The transmitter connects to all 3.5 mm devices
1Mii B06TX Bluetooth 5.0 Transmitter for TV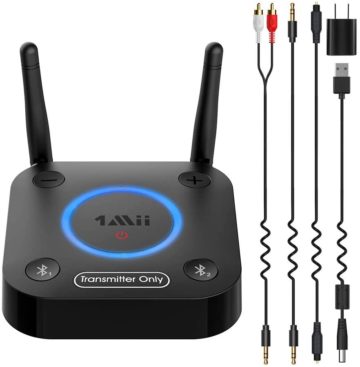 If you need a transmitter to pair your TV and headphones when gaming in the house, this model is a great choice. The best part is that this transmitter is compatible with both smart and android TVs. So, you can upgrade your android TV signals to match up with the smart models when gaming. This transmitter makes it easy to connect two speakers or a speaker and headphones to the TV.
So, if you are gaming with a friend, you can both connect the headphones. Connecting this kit is easy since there are not many steps to follow or cables to connect. The transmitter has a dual antenna to boost the connection signals while reducing delay when connecting to the TV.
Special features
Connects two devices at ones
Setting up the transmitter kit takes a few minutes
This transmitter is compatible with the majority of TV models
Has a long signal interval for a good connection
Bluetooth 5.0 Transmitter, MANLI 3 in 1 Bluetooth Transmitter Receiver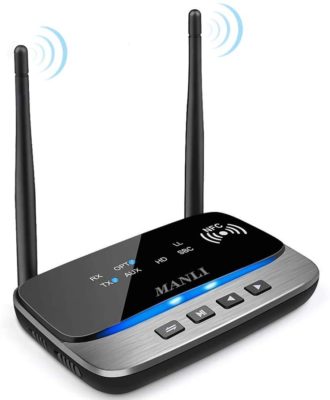 With a signal transmission range of 266 feet away, this is a must-have transmitter for people who need distance connection or if you live in a large home. This Bluetooth transmitter has a high compatibility for multiple TV brands and other devices. This transmitter is wireless which means you have an easy time connecting it to your devices.
With the advanced CSR8675 high-end Bluetooth V5.0 chip on this transmitter, you can quickly turn your CD audios into the best experience. It is easy to track this transmitter's connection details thanks to the LED light that blinks on each connection.
Special features
This transmitter can also work as a receiver
It is wireless for smooth connection
It has a signal transmission of 266 feet away
Comes with two antennae to boost signals connection
Avantree Oasis Long Range Bluetooth Transmitter Receiver for TV & PC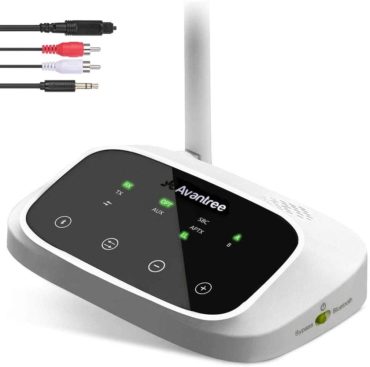 This is another advanced TV Bluetooth transmitter kit that is easy to control through the touch screen mode. The Bluetooth transmitter is compatible with multiple TVs and PCs. The transmitter's extensive range makes it easy to integrate with devices from long distance as the signals can travel to a distance of 295 feet when connecting with headphones and 328 feet when using as a transmitter.
You don't have to worry about experiencing any delay in getting this transmitter since it has the ptX Low Latency codec that eliminates delays significantly. Connecting this kit is easy since it is compatible with almost all TVs, plus has the Oasis support guide.
Special features
This is a multifunctional Bluetooth transmitter
You can connect with TVs and PCs
The transmitter has touch screen control mode
It comes with 24-hour online support
Mpow BH390A Bluetooth Transmitter Receiver
Enjoy music while in the house or while on the road with the aid of this Bluetooth transmitter. It gives the best audio sounds from multiple music devices such as CD, MP3 and TV models.
This stereo Bluetooth transmitter has noise cancellation mode to ensure you get nothing but crispy clear audios from your devices. This gadget can be used as a receiver and transmitter, plus It can connect with two devices simultaneously.
Special features
The battery lasts for 14 hours when used non -stop
It features 5.0 Bluetooth connections
The gadget has a low delay
Connects to two devices at ones
SONRU Bluetooth 5.0 Transmitter Receiver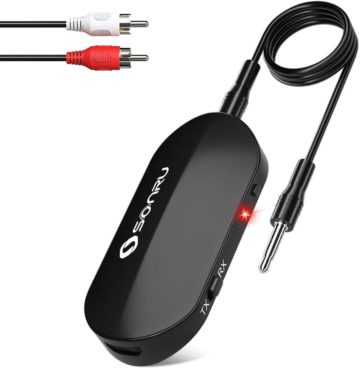 Enjoy transmitting or receiving audio content through this Bluetooth TV transmitter. It is a flexible transmitter compatible with a wide range of devices such as TV and music devices like MP3. So, even if your gadget does not have a Bluetooth connection, there is no limit to what you can do with the aid of this Bluetooth transmitter.
Connecting this Bluetooth transmitter is easy since it connects with all devices with a 3.5 mm port. You will also love this Bluetooth 5.0 transmitter because you can connect two devices at once. Therefore, you can either connect two headsets, two speakers or each model of each.
Special features
This is a multifunctional transmitter
The Bluetooth transmitter can connect two devices at ones
This transmitter can operate as a receiver
It comes with full-time customer care services
TROND Bluetooth Transmitter Receiver for TV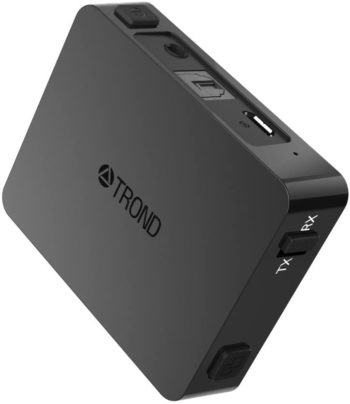 One crucial point worth noting is that other than connecting this transmitter with your TV, you can still use it with other gadgets like iPods and music gadgets. This Bluetooth transmitter comes with three connectors of OPTICAL, 3.5mm AUX and RCA, which easily connect with multiple devices with the same connection ports.
Also, keep in mind that you can connect this transmitter to two devices whereby you can use one as a receiver and the other as a transmitter. The adaptor is powered by a large 500mAh rechargeable battery that can run for up to 20 hours when used nonstop.
Special features
This Bluetooth transmitter can be charged using a USB cable
The device features three different connector modes
Connects to multiple devices
The battery is durable
MIILINK Bluetooth 5.0 Receiver, Wireless Audio Adapter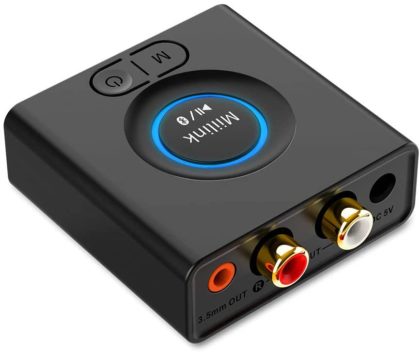 This transmitter's ability to reduce low latency makes it possible to connect it with other devices without Bluetooth connection such as a car. This transmitter is equipped with the advanced 5.0 Bluetooth integration which boosts the connection mode. This transmitter has a dual connection where you can easily integrate it with two devices at once.
Another feature worth noting about this transmitter is that it offers two sound modes to either opt for bass or standard sound output. This transmitter is equipped with a durable rechargeable battery that can run for up to 12 hours.
Special features
This Bluetooth connection has a long-range connection
The sound effect is adjustable
This Bluetooth transmitter has dual sound settings
The battery lasts for 12 hours non-stop
Conclusion
Transform your non-smart TV to a smart one through the above reviewed Bluetooth transmitters. These Bluetooth transmitters are equipped with robust signal transmission, making it easy to connect TVs and other devices from a distance. They are easy to use and deliver the best audio effects without much latency. So, check out the review to choose the best Bluetooth transmitter for your TV.