Are you thinking of buying a cordless grass shear? Our gardens need to be maintained to look beautiful. The herbs, shrubs, branches, grass need to be cut regularly. Cordless grass shears have made our work easy to beautify our gardens. They work great with quick touch-ups. The electric and cordless grass shears are planet conscious. As they work with batteries and there is no requirement of oil and greases, so, no harmful fumes are released in the atmosphere when it works.
The latest grass shears have multiple features like blade changing, LED light indicator, telescopic handle, and much more. These features provide us with multiple benefits in just one tool. So, here is the list of the top 10 Best Cordless Grass Shears, which you should prefer buying.
List of Best Cordless Grass Shears Review
10. LANNERET 7.2 V Lithium-Ion Cordless Grass Shear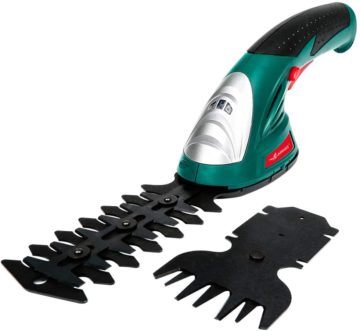 LANNERET cordless grass shear is powered by 7.2 V. It includes a charger to charge a 1.5Ah built-in lithium-ion battery. Along with grass shear, it acts as a shrub trimmer. The compact design of the grass shear is ideal to fit in small spaces. The three LED lights at the front indicate the working and charging status. The speed of 1100spm can cut the grass, shrubs, bushes, branches with high power.
It has a double lock design, which ensures safety even in the hands of children. This grass shear has an ergonomic handle, which makes it easy to use. The blade of the shear can be replaced easily. You don't require any tools for changing the blade of the shear. An instruction manual is provided along with it. The brand also promises you one year of warranty.
Pros   
Running time: 60-80 minutes
Charging time: 3-5 hours
Lithium-ion battery
Double lock design
Cons
The battery charger is not so good
9. RYOBI 18 V Cordless Grass Shear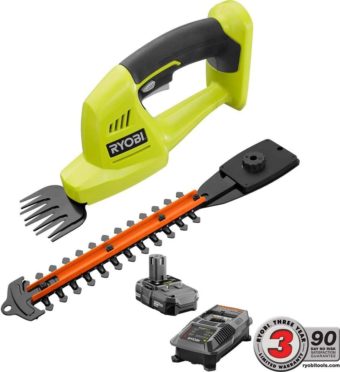 This grass shear has a 2-in-1 design. You can quickly change it from shear to the other blade in just a few seconds. For daily use, it is very light in weight and easy to carry. The rechargeable battery makes you free from the cost of oil and greases. Even if you are working as a grass cutter, you should buy it because there will be no extra cost other than the shear itself.
The battery is of lithium-ion and is of 1.3 Ah power. A charger is included in the box. The dual blades of the shear make your task easy work to do. The hedger blades are 8 inches long, and the shearing blade is 4 inches long. RYOBI offers you three years of warranty on this product. It takes 90 minutes to charge the battery completely.
Pros
Easy-grip handle
Long working time
Powerful speed
Solid design
Cons
Trimmer does not work well
8. MAKITA XMU04Z 18 V LXT Cordless Shear
It is a powerful tool with a built-in motor. The motor of the shear delivers 2500spm for efficient cutting. The battery of this cordless shear runs for 200 minutes with a 5Ah battery. But the battery is not included with the shear. This shear has dual blades to give the best results after cutting. You can even adjust the height of the grass, cutting up to 3 levels.
You can efficiently operate it one-handedly. If you want to change the blade of the shear, no tool is required for it. The battery of the shear is connected with it in such a way that they can communicate in case of overload. Even if the battery is low, the over-discharge protection extends the battery life by stopping it. In the case of overheating, the battery temperature is monitored, and the tool stops itself.
Pros
Powerful speed
Charging time: 45 minutes
Over-discharge protection
Overheat protection
Overload protection
Cons 
The battery is not included with the shear
7. GREENWORKS 7.2 V Cordless Hedge Shear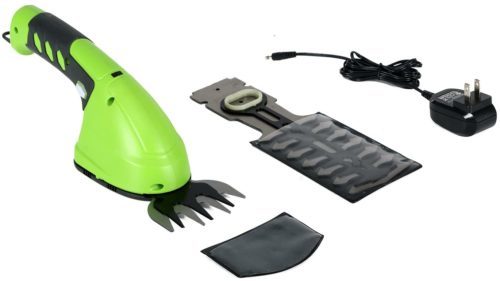 The cordless hedge shear and the shrub blade is available to you in one piece. The lithium-ion battery of 7.2 V runs smoothly. This tool is ideal for light shrubbery work. It has an easy-grip handle and is not complicated to use. It is very light in weight. You can use it in two ways- one with a hedger blade and the other with a shear blade. The changing of blades is effortless and just takes a few minutes.
It works with good speed and cuts smoothly all the herbs, branches, bushes giving a clean look. The battery lasts long, and the ergonomic design does not let your hand fatigue. Also, the blades of the tool are very sharp. So, be careful if children are using it.
Pros
Lithium-ion battery
Sharp blades
Easy to use
Light in weight
Cons
Difficult to press the safety lock and trigger at the same time
6. SCOTTS Outdoor Power Tool Grass Shear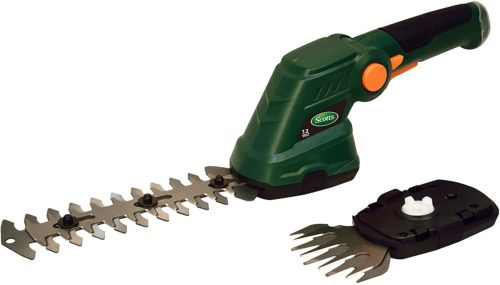 SCOTTS designed this tool with a powerful battery of 7.2 V. This grass trimmer charges with a lithium-ion battery and included a fast charger. You also get a hand trimmer along with it for hard-to-reach areas. The hand trimmer has an adjustable cutting head, which effectively trims the bushes. This pack includes a 6.5" hedge blade and 4" shear blade.
The handle of the cordless grass shear is cushioned to give your hand comfort. It is effortless to handle and has a compact design which makes it suitable to fit in small areas. Generally, this is a planet-friendly trimmer, and the brand provides you with two years of manufacturing warranty. While working, it does not create noise and allows you to work with peace of mind.
Pros
Extra hand trimmer
Environment friendly
Fast charger included
No requirement of multiple tools
Cons
The safety button is not protected
5. Garden 8885-U 3-inch Cordless Grass Shear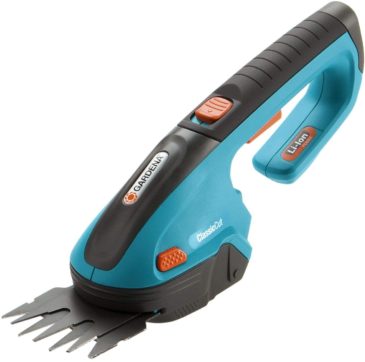 This tool is potent and has an ergonomic design. The handle of the grass shear is cushioned for ease and comfort grip. It has lithium-ion batteries, which are very durable and rechargeable. The LED light on the cordless shear indicates when the tool is charging to prevent the overcharging situation. It includes a charger to charge the batteries and blade protection.
You can easily replace the blade of the tool in a few seconds. It does not require any tool in changing the blade. Both the blades are of high quality and are very sharp. With the charging time of 6 hours, it operates for 80 minutes continuously. It has a non-stick coating for higher performance and durability. You also get two years warranty for this tool.
Pros
Safety feature
Ergonomic handle
Not noisy
Comfortable and powerful
Cons
The safety button is at the top and difficult to operate
Takes a long time to charge
4. WORX WG801 20 V Shear Trimmer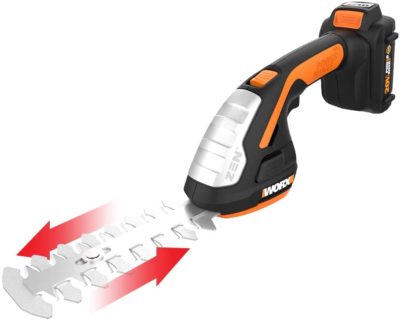 It is a powerful trimmer of black and orange color. The design of this tool is made in such a way that it is easy to handle, easy to maneuver, and easy to maintain. While cutting the grass, herbs, bushes, etc. the blade cuts once and then again from the back to give it an elegant, subtle look. The shear blade is 4," and the shrub blade is 8". So, you can access the benefit of two tools in one product.
The sheath guard on the grass shear extends and improves the life of your blade. You can use the same battery to power 20 V and 40 V tools. This feature of WORX cordless grass shear makes it unique. While working, often, the tool vibrates, leading to hand fatigue. But with this tool, the rubber handle makes it easy to hold and reduces the vibration. The changing of blades is also an easy task to do.
Pros
20 V powerful battery
Tool-free blade change
Optional telescopic handle
Steel blades are hard
Versatile
Cons   
3. Black + Decker GSL35 3.6 V Shear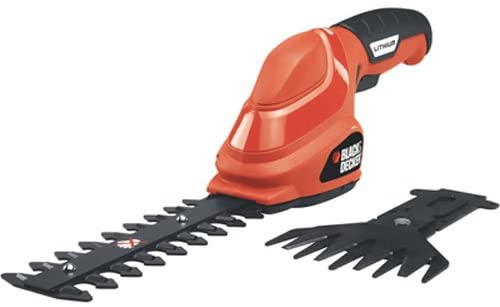 The blades of this tool are interchangeable, which provides versatility to trim both shrubs and grass. You can store it conveniently as it has a compact design. The lithium-ion battery provides it a longer life and more exceptional performance. It works fast and does the work smoothly with sharp cuts. The trimming blade is 6-inch long, whereas the grass shear blade is 4-inch long.
This tool is light in weight, and with its ergonomic design, it gives you better control and less fatigue while trimming. The blades are easy to change with just a button. A LED button indicates when the tool is in charging mode. The charger plug fits in easily into any of the household sockets and has energy star efficiency to save your electricity bill.
Pros
2 years warranty
LED button
Easy to handle
2 blades
Cons
The battery is just 3.6 V
2. WORKPRO 7.2 V 2-in-1 Grass Shear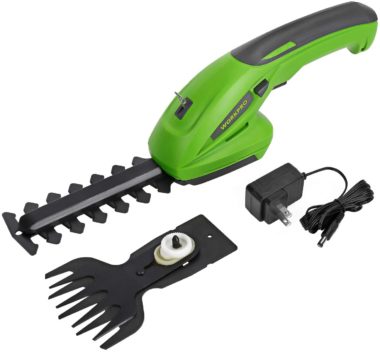 WORKPRO has designed this tool with a double lock design with a child safety lock. Whether it's working or in the rest state, the tool maintains a safety state. The model is straightforward to use and is a one-handed operation. The procedure of changing the blades is just a minute work. Make sure that the other blade is cleaned and kept dry for longer life.
The hedge trim blades are best suited for the 10 mm thickness branches. It has a compact design. So, you can store it in any of the small spaces. It runs at a speed of 1100spm, which provides high power for the best cutting results. With the charging time of 3-5 hours, you can operate the trimmer for approximately 40 minutes and a lawnmower for 50 minutes.
Pros
High reliability
Double security lock
Quick blade change system
1100rpm operation speed
Cons
Not fit for thick branches
1. SUN JOE 7.2 V 2-in-1 1250rpm Grass Shear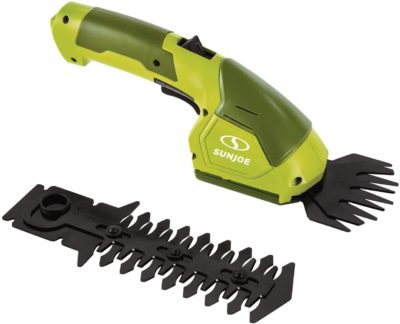 The 2-in-1 tool is versatile and is best used for small gardens or areas your mower can't reach. It includes a battery charger which charges the lithium-ion batteries. The weight of this cordless grass shear is just 2.5 lbs, which makes it very light to handle. The after-sales service of the product is excellent as they offer you two years of warranty for this product.
This tool includes a 4-inch grass shear blade and a 6-inch hedge trimmer blade. You need not worry about the oil, gas, costly seasonal tune-ups, or harmful hydrocarbon emissions. These all problems are solved by the rechargeable batteries of 7.2 V. It has a safety button at the top and a LED light indicator to show the charging in process mode.
Pros
Very light in weight
Instant start button
Ergonomic handle
2 years warranty
Cons
The blades are sometimes painful to change
Factors to Consider Before Buying Cordless Grass Shears
Blade Length
The more the blade length, the larger area you can cut down in lesser time. So, prefer buying the grass shear, which has a broad blade length. Also, the large blades give a more exquisite look after cutting. The blades should also be adjustable. Make sure that the grass shear you choose has a 2-in-1 function feature. It should have a hedger blade as well as a shear blade.
Weight
Check the weight of the machine before you choose to buy it. These tools are handheld. So, they need to be light in weight; otherwise, it leads to hand fatigue in lesser time. The lightweight grass shears are easy to work with and easy to handle, which keeps you working for a long time.
Battery Capacity
As clear from the name, these are electric and cordless grass shears. So, the most crucial point to consider is the battery capacity. The batteries should be of lithium-ion, which has a longer life and are rechargeable. They should have a longer run time.
Safety Lock
The grass shear must have a safety lock to ensure the safety of the children as well as adults. This lock system double locks the shear while working and keeps you safe. Also, look for grass shears that have overcharging protection, overheat protection, and overload protection.
Conclusion
Now, you can quickly and conveniently beautify your gardens with your Best Cordless Grass Shear. You have gone through the article, and now, you are aware of all the features of the latest grass shears. So, stop working hard and start working smart with environment-friendly grass shear.