If you are one of those persons who love fishing and camping, you will surely understand the necessity of a good quality fish cleaning table. A good fish or fillet table facilitates you to clean the fish more hygienically and correctly, which improves its taste and quality. It can also be used for many other purposes like cleaning of fruits and vegetables, or washing garden pots, etc.
However, with the easy availability of a variety of fillet tables in the market, sometimes it becomes quite daunting to pick the best fish cleaning table for you. With different features like size, strength, and facilities, it makes the buyers confused about selecting the right one that will fulfill all your requirements. To help you further, we have reviewed the ten best fish cleaning tables available in the market.
List of Best Fish Cleaning Tables Review
10. RITE-HITE Stainless-Steel Fillet Cleaning Table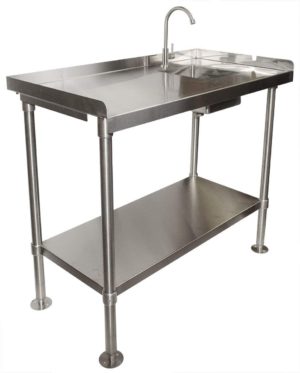 This heavy-duty fillet table from the USA with a stainless steel body is ideal for cleaning fish of all sizes and is perfect for any outdoor setting like garden, ports, or picnic, etc.
Standing at the height of 37″ off the ground, this 16-gauge stainless steel table features a durable top with 2″ tall back wall to take care of all your cleaning work efficiently. The attached sink is 6″ deep, enough to place the right amount of fish for cleaning. A stainless steel shelf is placed at the bottom of the table, where you can place all other necessary items. The rounded edges of the table are designed for your safety. The legs of the table are adjustable to stay firm on uneven surfaces.
Pros
Heavy-gauge stainless steel
Can be used to wash garden vegetables
Adjustable legs for rough surface
A large shelf at the bottom for keeping additional items
Easy and quick assembly
Cons
Spray attachment not included
9. Deluxe Fish Table by Old Cedar Outfitters

This heavy-duty polyethylene (HDPE) fish table is the ultimate station for fish and fillet cleaning and is apt for any indoor or outdoor settings.
The table constructed from high-quality aluminum comes with various extra items like a knife, bowls, cutting board, and odor bar to facilitate you with all the requirements for fish cleaning and cutting. The opening on the table with a built-in drainage facility helps in easy disposal of the waste materials. At the same time, the stainless sink faucet can work with the garden pipe conveniently. The table provides an extra layer of a shelf at the bottom section for keeping all your extra items while using the board. The legs of this portable table are coated with powder for giving it a long and comfortable life.
Pros
Includes a sink with drain set
Two stainless steel bowls are provided
Both indoor and outdoor suitability
Built-in storage shelf and drainage
Cons
Non-folding faucet causes inconvenience while storing or moving
8. Gymax Fish Table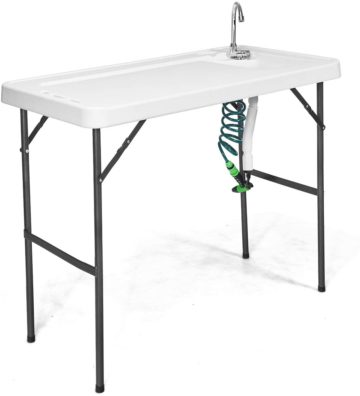 A premium fish cleaning table, this multi-purpose table is an excellent purchase for you to enjoy all your outdoor activities like camping, picnic, etc. with your family and friends.
This light-weight fillet table is made from high-quality polyethylene and can be folded for easy portability, and the strong legs let it stand on any uneven surface firmly. The metal legs with powder-coated finish give it an anti-rust and long-lasting feature. The sink tap is designed to rotate in any direction and can be foldable as well. You can adjust the height of the drain pipe from 12″ to 34″ as per the bucket height and can attach your garden pipe to the drain hose. The spray can be extended to different places on the table and give you the required water pressure.
Pros
Easy to assemble and dissemble
Extended drain pipe for holding a bucket of any height
Foldable and portable
Water tap is rotatable
Sloped surface and high table for smooth water flow
Cons
7. Organized Fillet Table by Old Cedar Outfitters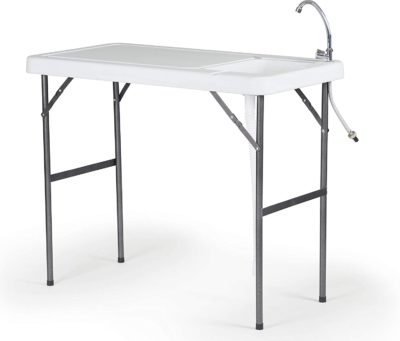 An excellent fillet table for all your outdoor activities, this multi-purpose counter can also be used in your garden for filling water pots and washing fruits and vegetables, gaming, etc.
The table, made from 304-grade stainless steel, is solid and long-lasting to withstand heavy loads. With the folding and locking legs, you can easily fold down and store the table safely when not in use. At the height of 36.5″, the table is tall enough not to hurt your back while you stand for a more extended period while cleaning the fish. The only issue is that assembling of the hose and the faucet every time you want to set the table up, takes time and effort.
Pros
Lightweight and portable
Stainless steel body for strength and durability
Legs are locked with safety locks for better storage
Perfect height for an average person
Cons
No extra shelf at the base
Setting up is time-consuming
6. Goplus Portable Fillet Table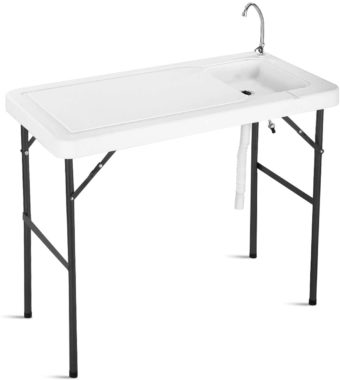 This handy and portable fish cleaning station is constructed from a premium quality HDPE material with sturdy steel legs and provides strength and durability. While the HDPE material is non-toxic and thus suitable for your health, the high load capacity of the table makes it a convenient buy for everyday use.
You can connect your garden hose to the faucet attachment easily, and the drainage pipe collects and disposes of the wastewater and other materials properly.  The non-slip pad at the bottom of the legs supports the table to stand firm, even on rough surfaces. Goplus designed carefully; this lightweight table does not take much space and is easily folded for secure storage and transport.
Pros
Strong body with finest HDPE material
Folding table for easy transport
Anti-slip foot pad
Waterproof body
Sink is deep for convenient cleaning
Cons
Legs have no safety clip and might flop down while transporting
Connecting hose/faucet is time-consuming
5. Coldcreek Outfitters Fishing Table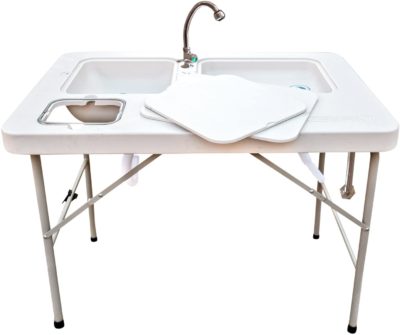 If you love to spend some quality time with your family and friends outdoor, then this fish cleaning table is a good buy for you. Carefully designed from a premium quality steel, this cleaning table with dual molded-in sinks and a full drainage feature is a one-time investment for all your outdoor needs.
The table is designed to be collapsible for easy transport, and the two sinks provide plenty of space for cleaning food. You can cover the sinks with sink covers to get maximum table space for chopping and cutting. The sinks are attached with removable drain plugs for easy disposal of waste materials. With the easy setup feature, this table is ideal for cooking your favorite meal without any trouble.
Pros
Two sink covers provide maximum tablespace
Foldable and easy to carry
Dual sink facility for better usage
Removable nozzle for easy cleanup
Cons
Hose connection might be an issue because of the size difference
4. LIFETIME Folding Fillet Cleaning Table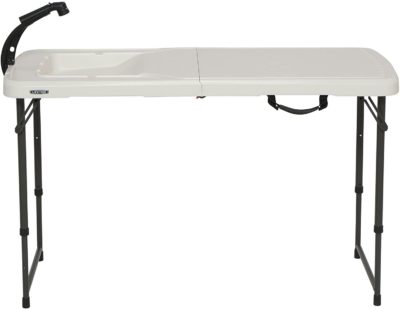 This 4-ft portable cleaning table from LIFETIME is a perfect outdoor table and can be used in your fishing, camping, or picnic. The HDPE material of the table provides long-lasting durability and is non-toxic. Thus it is safe for your health too.
The sturdy frame of the table is made from powder-coated steel and is anti-rust and dust-free. You can adjust its height up to three different lengths based on your requirements. The spray handle has two pressure adjustments to change the water flow and can be used hands-free using the on/off switch. The large tabletop is designed in such a way as not to have water leakage issues. A storage facility is provided on the underside for placing the spray handle and hose. You can fold the table into half for secure storage in lesser space.
Pros
Hands-free spray nozzle
Easy availability of replacement parts
Faucet can be dissembled and stored under the table
2-years limited warranty
Cons
Non-extendable drain hose
3. Outsunny Portable Sink Table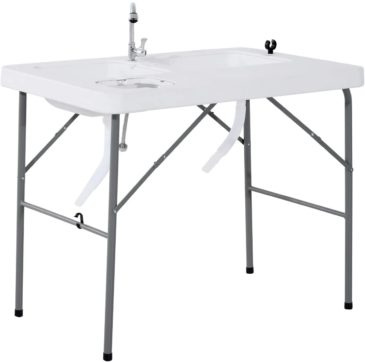 With high-quality HDPE and steel frame design, this cleaning table from Outsunny is an excellent choice for your outdoor camping, BBQ, fishing, etc. Because of the HDPE material, the table is very sturdy to hold weight up to 132lbs, durable, and will last a lifetime.
The table is constructed with two separate washing sinks, providing ample space to clean a lot of fish together. An opening on the table to attach a garbage bag helps in the convenient disposal of waste. You can easily attach a faucet to the hook for quick cleaning of fish and other items. Also, the faucet can be removed and stored separately while folding the cleaning table for storage purposes. The HDPE top is waterproof and thus can be easily cleaned using soap and water.
Pros
2 separate washing sink for maximum use
Waterproof HDPE board
Easy cleaning with soap and water
Garbage bag opening for easy disposal
Cons
Some stain marks are difficult to remove
2. Kotulas Fish Table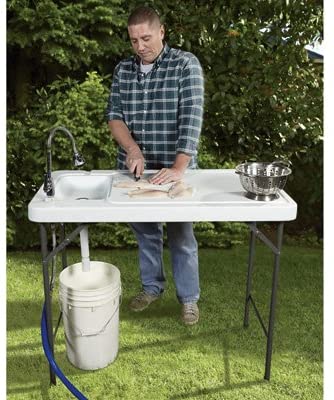 Well made with a stainless steel top and metal frame, this fish cleaning camp table is an excellent help in your camping adventure.
The table is constructed from high-quality plastic body and is lightweight. The metal legs of the table stay locked while they are folded or in an upright position, thus providing strength to stand firm, even in rough places. With a perfect height, it causes less stooping and back pain. It has a stainless steel faucet along with a flexible sprayer that you can hook up to your garden hose to get fresh water with required water pressure. The containment opening in the table passages all waste liquids in the sink, and the drain hose let these get easily disposed of into the bucket placed below the drain hose.
Pros
Easily foldable and portable
Flexible sprayer for effective use
Locking legs for better stability and safety
Excellent customer service
Cons
Faucet fixture seems little light-duty
1. Flash Furniture Fish Cleaning Table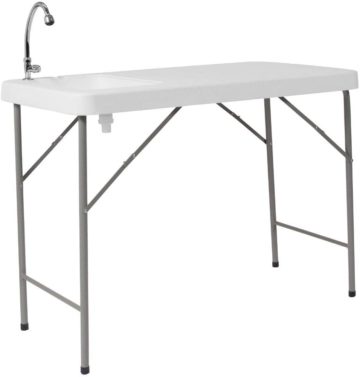 This outdoor camp table from Flash Furniture is the best fish cleaning table that you may find in the market.
Flash Furniture is made with a granite top and metal body frame; this multi-purpose table is quite sturdy and can hold 220 lbs. Whether for cleaning your fish or vegetables or as a storage table or as a just a washbasin, this table is apt for multiple uses effectively. You can also fold and store the table quickly when it's not in use. The height of the table can be adjusted up to three settings, as per your requirements. The faucet attachment and the extended hose on the table facilitate a convenient washing.
Pros
Drain stopper for controlled water usage
Extended hose for convenient use
Foldable for secure storage and transport
5-years and 2-years limited warranty on non-movable and movable parts respectively
Adjustable table height
Cons
Buying Guide – Things To Consider While Buying The Right Fish Cleaning Table
With the availability of so many tables, finding the right one for your requirements can sometimes be challenging. Hence, we would advise you to consider the following important points to pick the best one amongst all.
Material
While some of the cleaning tables are constructed from stainless steel or High-Density Polyethylene (HDPE) material, few others are made from a hard plastic material. It is always best to choose HDPE material as they are not only sturdy, durable, and waterproof but also are non-toxic and hence are right for your health. Also, you should look for the construction quality of the table legs. The best ones are made from stainless steel with powder-coating to make them rustproof and dust-free. The table legs with anti-slip mat give the table a wobble-free, firm stand, even on rough surfaces like camps and beaches.
Size
While checking the size of the table, you should always consider the table that is tall enough not to put any pressure on your back, resulting in back pain, because of a long-standing position. Ideally, select a table that provides adjustable heights to be used by all. Also, the tabletop should be significant to give you adequate space for cleaning larger fish.  A large size sink, an excellent faucet, and drainage feature add value to the table.
Portability
Since fish cleaning tables are perfect outdoor tools and are generally carried for camping or picnic activities, the tables must be easily portable. For this reason, the ideal table should be compact, lightweight, and easily foldable.
Design
A fish cleaning table is usually a one-time buy for most of the buyers. So it is always best to choose one that can be used for multiple other activities. Thus, please also look into factors like price, availability of extra storage space, the extension of hose, etc.
Conclusion
Finding the best fish cleaning table might look intimidating, but with our reviews and buying guide, we assure you to get the best one to fulfill your necessities. So, whenever you need to buy a fishing table, go through this article to decide the best fish cleaning table and enjoy fishing!!!