During that cold night or morning, nothing treats you better than a hot beverage to sip. A homemade cup of hot chocolate might be your chosen beverage. While you can use your microwave to make prepare some hot water, for your hot chocolate, this can be tedious and not the best way to enjoy some hot chocolate. Investing in a hot chocolate maker is an invaluable addition to your chocolate making procedure for any chocolate lover. However, choosing the best chocolate maker can be a daunting task especially for beginner users of these tools. The following is a review of the 10 best hot chocolate makers of 2023.
Bonsenkitchen Electric Milk Frother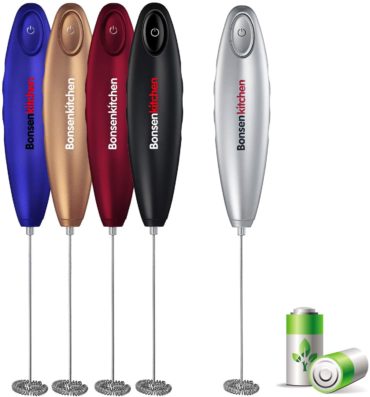 Best known for its compact nature, the Bonsenkitchen electric milk frother is one of the quality yet affordable choice of a hot chocolate maker. While most people living in small apartments might not have enough space in their kitchen for a huge hot chocolate maker, this chocolate is made to suit any kitchen space.
Notably, this pick is battery-powered having it make some creamy hot chocolate foam, milkshakes, and lattes for as little as fifteen seconds only. This hot chocolate maker also comes with an ergonomic handle that is comfortable to hold. Coming with a stainless steel whisk, this electric milk frother and chocolate maker is built to last.
What We Like
Its portability, hence you can whip up some hot chocolate anywhere
Comes in a variety of colors
A compact design that allows it to suit all kitchen spaces
Nostalgia Retro Hot Chocolate Maker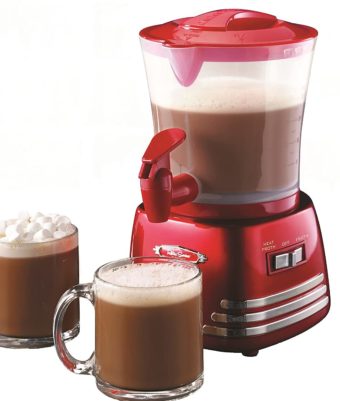 The Nostalgia Retro hot chocolate maker makes it to this list thanks to its multipurpose use for all your milk frothing and hot chocolate needs. While its base can froth up both hot and cold beverages, its maker will make approximately four cups of hot chocolate. The chocolate maker offers convenience in dispensing your hot beverage, thanks to its spigot located on its side. You can also lift the jug to pour out your hot chocolate. Even though the chocolate maker lacks an auto-shutoff feature, it still makes a reasonable substitute for some of the expensive hot chocolate makers.
What We Like
Comes in a stylish retro design
Highly rated on its ease-of-use
It's an affordable choice to get your hot chocolate making job done
Breville Milk Café Frother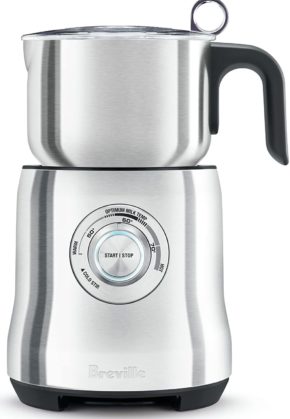 With the Breville milk café frother, you can make professional-tasting hot chocolate thanks to its superb frothing capabilities. Notably, this hot chocolate maker uses induction heating and a spinning motion in creating some great frothy beverages. The Breville milk café frother comes with an auto-shutoff feature that shuts off the hot chocolate make when the beverage re ages the desired temperatures.
Complementing the auto-shutoff feature is the hot chocolate maker's adjustable temperature feature which allows you to warm your chocolate at your desired temperatures. With this hot chocolate maker, one can whip up some creamy chocolate foam and silky milk thanks to the cappuccino and latte disc.
What We Like
Hassle-free cleaning
Its automation features hence you need not be always standing there while whipping some hot chocolate
Its jug is dishwasher safe
HadinEEon Milk Frother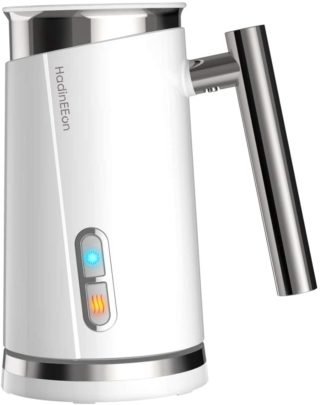 The HadinEEon milk frother makes yet another great hot chocolate maker. With this milk frother, you can froth up to 4.4 ounces and heat up to 10 ounces of your beverage to up to a hundred and forty-nine degrees Fahrenheit. The milk frother's jug is also lined with a nonstick coating that allows for easy cleaning.
Notably, both of its whisking functions can be initiated by the use of clearly labeled buttons. With just sixty to a hundred seconds, the HadinEEon milk frother will whip up some delicious hot chocolate for you for a nice and warm treat.
What We Like
An attractive, sleek, and futuristic design
Its large capacity
Transparent lid for easy monitoring the milk
Work well even with plant-based milk
Casara Milk Frother and Steamer
If you love lots of hot chocolate without having to go back to the kitchen minute after the other, then a large milk frother and steamer is all you need. With a 17 ounce capacity, the Casara milk frother and steamer offers a great plugin option for whipping up hot chocolate.
This hot chocolate maker also comes with a removable stainless steel jug that is dishwasher safe hence offering some easy cleaning. With only a press of a button, the Casara milk frother and steamer can help you effortlessly whip up not only hot chocolate for you but also any other hot beverage of your choice.
What We Like
Its ability to melt chocolate chips and chunks perfectly
Uses induction heating hence no scorched milk
Its rubber feet keep it steady on your kitchen's countertop
Secura Electric Automatic Milk Frother and Hot Chocolate Maker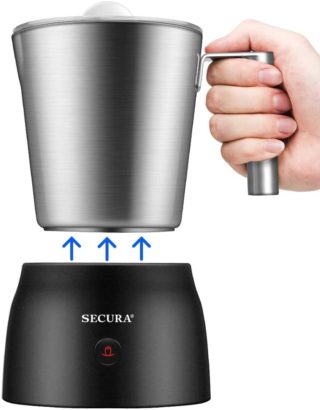 With this Secura model of the hot chocolate maker, there is no limitation in usage having it do multiple tasks for your beverage needs. Thanks to its four different whisks that one can do hot frothing, cold frothing, hot chocolate frothing, and also heat with no froth hence more versatile thank most of the hot chocolate makers.
Even though its jug can only hold eight ounces of your hot beverage, this allows for easy mixing and frothing. With its removable and dishwasher safe jug comes the ease of cleaning this hot chocolate maker.
What We Like
Auto-shutoff feature hence the machine doesn't overheat
Its steel jug is dishwasher safe
Includes heating whisk and frothing whisk
Capresso Milk Frother and Hot Chocolate Maker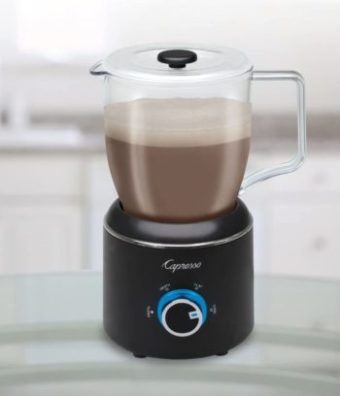 Yet another hot chocolate maker with distinctive and patented frothing disks is the Capresso milk frother and hot chocolate maker. While two of its disks are meant for frothing, one is used for heating alone. This hot chocolate maker comes with three control buttons including the hot, cold, and warm buttons. Hence its users can make chocolate syrups, powdered mixes, or any other form of chocolate in their desired temperatures. This hot chocolate maker also has a spacious container with a perfect handle hence offering quite some comfortable usage. Notably, its dishwasher safe as well as BPA free.
What We Like
Its three control buttons offer more ease-of-use
Efficient frothing experience, thanks to its two patented frothing disks
Usable even with plant-based milk and other non-dairy products
Miroco Electric Milk Steamer and Soft Foam Maker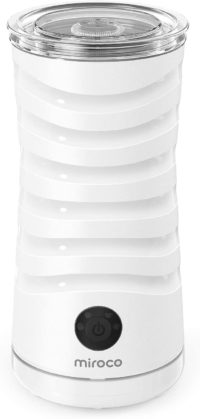 While most of the hot chocolate makers are big in size and complicated, Miroco offers a small but efficient electric milk steamer and soft foam maker. Notably, this hot chocolate maker comes in a single-cylinder that will fit in any type of kitchen counter or personal drawer.
Even better is its one-touch button for hot and frothy hot chocolate. With the Miroco electric milk steamer and soft foam maker, one can whip up to three exquisite textures including hot dense foam cold milk froth, and hot airy foam. Carrying a capacity of 240ml, the hot chocolate can help you prepare a quick breakfast within one to two minutes.
What We Like
Its small size design
Ease of use, thanks to its one-touch button use
Its non-stick interior makes it easy to wash
Bialetti Hot Chocolate Maker and Milk Frother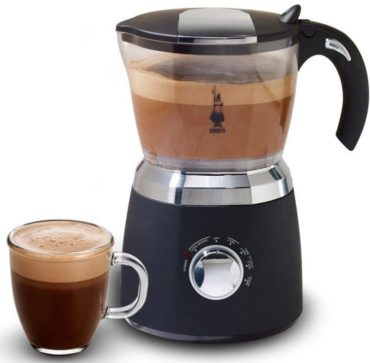 The Bialetti hot chocolate maker and milk frother is yet another compact machine for all your hot chocolate needs. Bialetti takes pride in this machine's spacious carafe, thanks to its ability to brew up to thirty-two ounces of hot chocolate hence serving up to four people at a go. This hot chocolate maker is designed to work with all chocolate ingredients.
Consistency and similar creaminess is however guaranteed with the Bialetti hot chocolate maker despite using either chocolate shavings, cocoa powder, or syrups. You might fall in love with its automatic shutoff feature through which all the user needs is to put ingredients in the hot chocolate maker and turning it on leaving it to do the work for you.
What We Like
Its cold mixing option
More chocolate thanks to its spacious carafe
Comes with a timer and auto-shutoff feature
Mr. Coffee Cocomotion Hot Chocolate Maker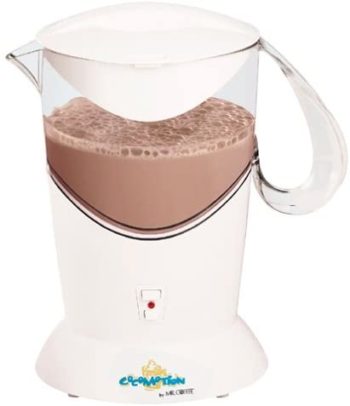 Top rated by many hot chocolate connoisseurs, Mr. Coffee's locomotion hot chocolate maker remains one of the best hot chocolate makers and kitchen assets one can possess. Forget its name that might have you think otherwise about its capability to whip up some of the best hot chocolate for you.
With this chocolate maker, all you need is to pour in your milk, or water then add some syrup or chocolate powder and secure the lid for some professional coffee brewing, thanks to its automatic shutoff feature. This hot chocolate maker is easy to clean having one only need to wash its lid, jug, and mixing impeller.
What We Like
Comes with a robust mixing disk
Easy to clean
Can brew up to four servings at a go
It's easy to use
The Best Hot Chocolate Method
Final Thought
With any of the above hot chocolate makers, you can whip up some delicious and frothy hot chocolate. The decision for the most optimal hot chocolate maker to purchase from the above can be made based on personal preference, having either choice offer value for your money. Visit your preferred store and purchase one of these hot chocolate makers for some hassle-free, consistent hot chocolate brewing at the comfort of your kitchen