Be it a winter evening or the end of a very busy day, warm bathrobes or towels is a relaxing delight. When we come to the house or hotels after a long day of work, we tend to relax. A refreshing bath and cleaning your face with a warm towel is all one needs to feel good. To make that happen and eradicate tiredness, heated towel racks come in handy. In fact, after a hard day at the office or a rigorous session in the gym, all you will need is a comfortable time. And with a warm towel, all your tiredness will be gone.
Now, set-up one in your home and receive the luxurious treatment just like home. So, here is the list of top-rated heated towel rack that you can check for your home.
Best Heated Towel Racks – A Complete Guide:
10. Amba RWH-CP Curved Towel Warmer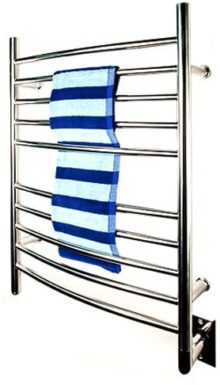 These help you get relaxing time and the Amba RWH-CP is a lovely towel warmer to get you started with the task. It is crafted from conductive material layered with such coatings such that it remains resistant to tarnishing and rusting. This requires minimal power to work and can generate up to 150 watts of heating power.
Besides, the height of the warmer is 31.87-inches and it has a depth of 5.75-inches. Moreover, the warmer also features quite a spacious width of 23.62-inches. Finally, it has the properties of heating pretty quickly to give the best treatment you need.
Key Features:
Both the horizontal and the vertical bars in this gets heated up to help you with heating towels.
All the constructions in this very handy unit are made from the highest grade of 18/8 stainless steel material.
This looks stylish and will perfectly be a part of any luxury hotel cause of its elegance.
9. INNOKA 2-in-1 Towel Warmer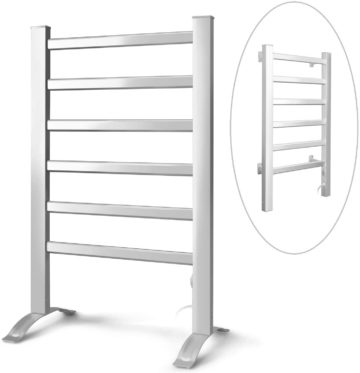 The INNOKA 2-in-1 warmer for towels is a powerful device to bring to your bathroom, laundry room, and so on. It is a readymade heating service that keeps your clothes or towel warm and comfortable. The clothes rack is set to work within a temperature range of 110°F – 122°F which is quite comfortable to the body.
Besides, the required temperature range is reached after keeping it on for 30 to 40 minutes. Hence, the temperature is set owing to the present temperature and humidity of the room.
Key Features:
This is a dual-purpose device that is set up anywhere when you are using it in freestanding mode.
It may also be wall-mounted in a particular place if you feel so.
The dimensions featured are capped at 21.7-inches width and a height of 35.3-inches. If you are using it as a freestanding product, then it also features a depth of 13.2-inches.
8. HEATGENE Towel Warmer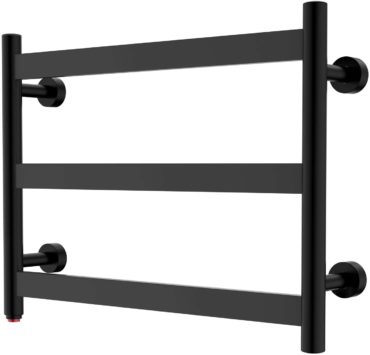 The HEATGENE warmer is a stylish setup that will give your bathroom a chic look as well as a high degree of functionality. It constructed from 304-grade stainless steel and has a corrosion-resistant, dark, and easy-to0clean surface. The wall-mounted setup features three flat crossbars on which to hang the towels and required garments. It is easy to install and the eating mechanism works both through plugs and through the hardwiring setup.
This device is so constructed that once it reaches the optimum temperature. It will maintain such temperature for as long as the device is run.
Key Features:
The towel warmer requires only 15 minutes reaching the minimum heated temperature of 110 °F.
If you run the setup for 30 minutes, then the optimal working temperature of 130 °F is reached.
It got the ETL-certification that clearly hints at its extraordinary features.
7. TOYEEKA Towel Warmer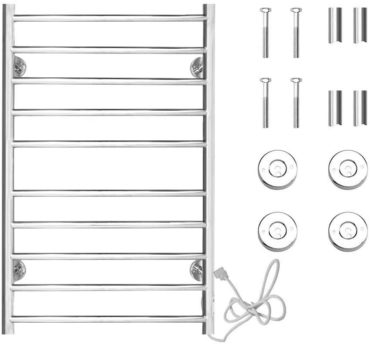 The TOYEEKA warmer is a desirable product to go for if you are looking for warmers. This is a huge setup and quite spacious and hence allows you a high degree of convenience. It is a rack and warmer setup that is so built that you can use it in free-standing mode. As a result, allows mobility and a greater range of uses. It is loaded with a 10-ft power cord which gives you versatility in use.
The heating rack setup requires 30 minutes to warm up and reach the optimum working temperature. This towel warmer will work at a temperature of 122°F to get your stuff warm.
Key Features:
It has a heat output of just 100 watts which is both economical and eco-friendly.
This features 10 bars to place your towel or bathrobe or other garments to get them dry, warm and comfortable.
It comes with a curved stature for supporting the towels properly.
6. ANZZI Floor Mounted Towel Warmer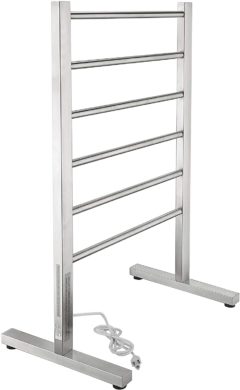 If you are looking for a powerful as well as an economic unit as your towel warming setup, you should go for the ANZII warmer. It is stylish and features 6 rounded bars to keep your clothes and towels to dry them. As a matter of fact, get them warm and comfortable. The Rhino alloy used in making this sturdy setup is stainless steel if high-grade such that it is resistant to rust as well as corrosion.
The body is also layered in a brushed nickel finish that imparts in it an ability to be easily cleaned. All you need to do is to plug this device into any normal electrical outlet and switch it on. Lastly, it will get warm in no time and be ready to dry anything that you place upon it.
Key Features:
If the product or any parts turn out to be defective, then it will be replaced by ANZII. And that also absolutely free of any charge.
This unit is also highly energy efficient as it uses only 65 watts of power.
Having a 6-bar design, you can easily dry your clothes in it.
5. Amba J-B004 P Towel Warmer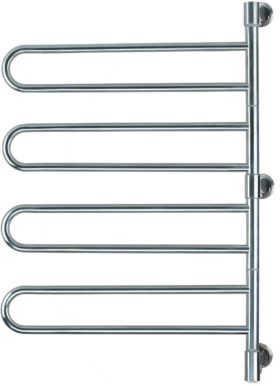 The Amba J-B004 is an amazing device that features a P-shaped design. Its design gives it quite an attractive look and makes it apt for different bathroom setups. The specialty of this from the house of Amba is that this device can be given a full 180-degree swivel. And hence features added functionality. Moreover, the device is loaded with 4 arms and hence 8 bars to hang your stuff.
The 4 arms in this warmer are operated and rotated individually. All this device requires is a 110 volts supply and it is good to go.
Key Features:
There is a light indicator which indicates whether the device is running or not.
The optimum temperature that this device reaches is 136 °F. As a result, it is warm enough to get your clothes, towels, and other paraphernalia warm and dry.
Interestingly, each of the arms of this rack has its own independent function.
4. WarmlyYours Towel Warmer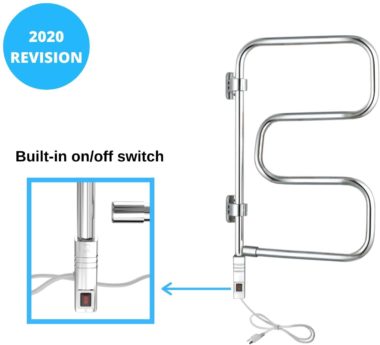 WarmlyYours warmer is quite a crafty product to have in your bathroom. It is stylishly built such that it serves the purpose of a warmer for towels. On the other hand, it also adds to the looks of your bathroom. It features 4 bars arranged in a continuous loop and constructed from stainless steel featuring a chrome look. The steel body is very effortless to keep clean and can hold up to two towels at a given time.
Finally, this warmer also features a swivel function such that you can move it to and from the wall.
Key Features:
This setup has a power cord that extends up to 5 feet.
When you buy this, you get backing of up to 2 years manufacturer's warranty from WarmlyYours.
It can easily let you hang 2 towels simultaneously.
3. Royal Massage Freestanding Towel Warmer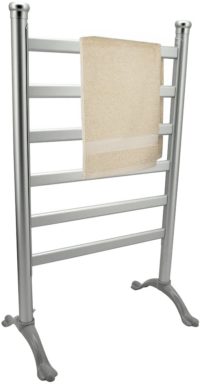 If you are looking for an appreciable warmer set up to bring to your home, then you should go for this. It is an array of 6 straight barracks that features a lot of space to dry all your stuff at one go. The optimum range of temperature reached by this device lies between 110°F – 122°F. And this is also a safe temperature to use. Intelligent control ensures that once the optimum temperature is reached it is maintained without any problem.
The body of this terrific warmer is constructed from aluminum along with molded ABS. As a result, it can deal with the extreme natures and heavy-duty use.
Key Features:
The ON/OFF switch added as a safe cover to ensure added protection when using in a high moisture environment.
It takes up to 30 minutes for the warmer set up to reach the optimum warming temperature.
This electric warmer has successfully made it to the UL listing for its amazing features.
2. SHARNDY Electric Towel Warmer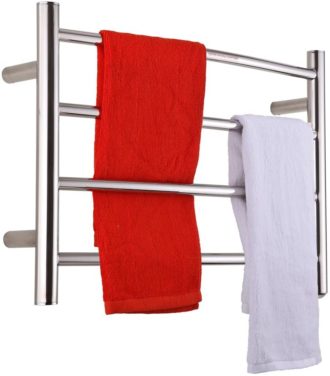 If you are looking for one that is high in functionality, you should go for the SHARNDY Electric Towel Warmer. Firstly, this features 4 rounded bars that can hold your towel or other garments. It features a height of 16.54-inches and each of the bars covers an area of 23.62-inches width and 5.51-inches diameter. The rack can both be mounted on a wall and made to freely stand on the ground.
As a matter of fact, the switch is lined with a protective covering to ensure safety in high moisture situations. The temperature in this rack is maintained at 113-122°F for providing the comfort that the users deserve.
Key Features:
It can reach the desired temperature range within 30 minutes of switching it on and intelligently maintains it.
This is so designed that you can even run it throughout the whole day and night and it will not show any malfunction.
It will not create any unnecessary annoying sound and function for a stretch of 24-hours.
1. ZJINHUI Hot Towel Rack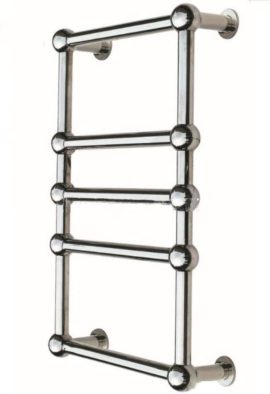 The ZJINHUI rack is an efficient system constructed from 304-grade stainless steel material. There is no additional surface coating on this steel and it is inherently resistant to carrion as well as rusting. The polished surface is also safe to touch at all times though you should check the temperature settings before doing so. It will not fade or show any discoloration even after long time use.
Furthermore, the rack is made into a spherical design that is appreciable to look at. This will even help in even distribution of the heat for your own comfort.
Key Features:
The surface of these steel rods is so made such that they are resistant to electricity. And thus no chances of getting shocks.
The coils are set with intelligent control of temperature system so as to efficiently maintain a particular temperature.
Going for a warmer is a difficult task because there are so many options available over the internet. But it is indeed a necessary inclusion for receiving the comfort you deserve. So, install a heated towel rack and say bye-bye to unwanted chills.