A well-organized home is a place that makes life happier and relaxed. Nobody likes to stay in a house with dirty clothes lying everywhere, but doing laundry can be a tedious job. With sorting, washing, hanging, etc., it can be a real struggle for most of us. Effortless morning rituals lead to the start of a better day. And laundry sorter is one such product that makes you streamline your chore and enjoy this mundane job. They help you sort and organize your clothes in one place and make your home look more orderly and systematized.
With the easy availability of many types of laundry sorters in the market, getting the right one is not always easy. With so many features and specifications, it sometimes becomes a tricky situation to choose the best one.
To help you find the best laundry sorter, we have reviewed the top 10 laundry sorters available in the market.
List of Best Laundry Sorters in 2023 Reviews
10. STORAGE MANIAC Laundry Hamper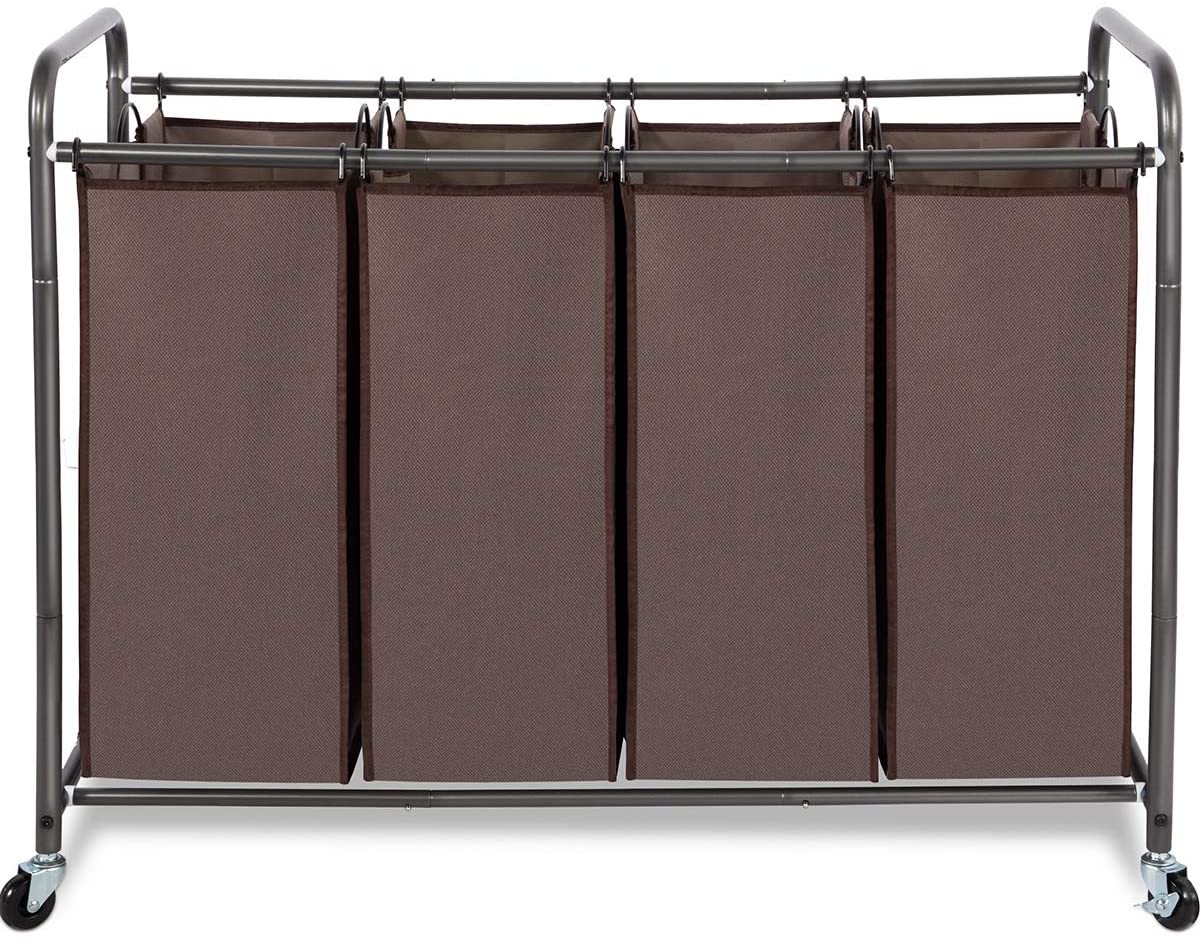 If you have a large family with kids, this 4-section laundry sorter proves suitable to you. With four different bags with a large capacity of 25 lbs. in each, this cart is also convenient to be used in commercial places, like hotels, hospitals, etc.
The four separate bags give you the option to segregate your clothes as per your needs like fabric, colors, etc. The bags are made from polyester canvas with inner-coating of waterproof material, making these sturdy and long-lasting. You can remove each bag individually and clean it using a damp cloth. The sorter's frame is supported with six robust and rustproof metal bars providing extra stability and reduces sagging. Wheels help you move it quickly, while the safety locks in wheels enable the sorter to stay stationary, avoiding accidental movements.
Pros
Horizontal bars for better stability
Different bags for separate laundry
Wheels with safety locks for easy portability
Easy assembly
Cons
Chemical small from new bags
9. Whitmor 3 Section Laundry Sorter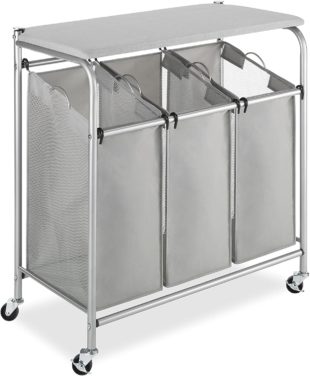 This 3-section laundry sorter from Whitmor with a heavy-duty metal frame is constructed as per the requirements of all families. At the same time, the additional iron and folding board adds to its many benefits.
The sorter is designed with three individual bags for sorting your clothes according to their colors, delicacy, etc. The bags are made with breathable mesh materials on their sides to minimize odor. With an easy removability feature, you can take out each bag separately for use and cleaning purposes. The top portion of the sorter is covered with a cotton covered board with a foam top that can be used for folding or ironing of clothes. You can quickly assemble the cart with no extra tool. The wheels with safety locks provide controlled mobility.
Pros
A sturdy board with a fabric cover for the ironing
3 removable bags for better usage
Heavy-duty wheels provide sturdiness and smooth movement
Safety lock of wheels for control
Cons
Hard fabric might not be easy to clean
8. Simple Trending 2-Bag Laundry Cart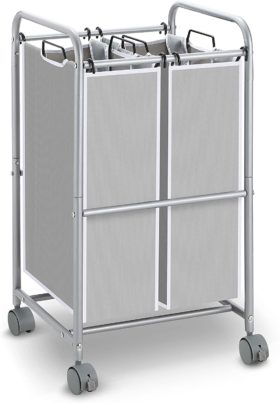 This handy little cart is a perfect laundry sorter to store dirty clothes and give your home a clean look. With 2-bags on the cart, this sorter looks smaller and doesn't take much space in your bathroom, but each bag can hold 11 Gallons of clothes, which can be 1-2 loads of your laundry.
With a self-explanatory instruction manual, it takes only a few minutes to assemble this sorter. The fabric of the bags is quite sturdy with durable stitching, and the inner part is sewed with a plastic lining for making it waterproof. You can remove the bags individually, and its sturdy handles make carrying convenient and more comfortable.
Pros
Sturdy frame and caster
Removable bags with strong handles
Large capacity of 11 gallons in each bag
Commercial grade wheels for easy mobility
Cons
Washing the bags will deteriorate their lining quality and make them weaker
7. SONGMICS 4-bag Laundry Sorter
This huge laundry sorter with four large size bags, sturdy wheels, and a hanging bar to hang garments, is a must-buy for big families or commercial establishments.
With four large capacity bags, you can organize a vast amount of dirty clothes as per your convenience without them falling out. The bags can be removed individually for easy loading and unloading of clothes. You can wash the bags using a soft brush and warm water. The hanging bar enables the hanging of fresh laundries and can be removed as per your storage suitability. The sorter has four flexible and sturdy wheels for moving around smoothly while the safety locks let you keep it stationary. At the bottom of the sorter, you will find a net board for placing extra items that might need cleaning.
Pros
Hanging bar to hang garments
Net board at the bottom for storing other items
4 larger bags with massive capacity
Flexible wheels with safety locks
Cons
Huge size might be inconvenient to a few
6. Ollieroo Laundry Sorter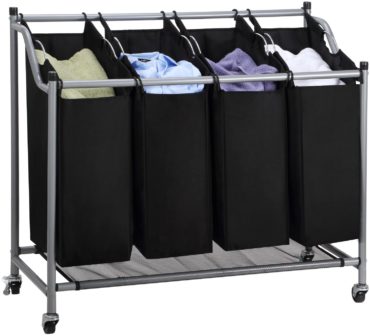 Ollieroo is made from high-quality canvas fabric; this 4-bags laundry sorter is a great buy to place a huge volume of clothes conveniently.
The four high-volume laundry bins can store 60 kgs of dirty clothes without losing their balance. The bags are made from heavy-duty canvas oxford cloth bags, which are eco-friendly and dustproof. The inner side of the bags is layered with a plastic lining, making the bags waterproof as well. The sorter has a durable chromed metal frame and handles to hold the weight, and the sturdy wheels help you to roll the cart easily from one place to another. A mesh lining is attached to the bottom of the sorter to keep extra items and also safeguard clothes from falling on the floor.
Pros
Washable bags with waterproof inner linings
Wheels have breaks for better control
Metal handles for extra durability
Canvas bags for strong holding capacity
Cons
Extra purchase of bins is always not possible due to non-availability
5. BRIGHTSHOW Laundry Hamper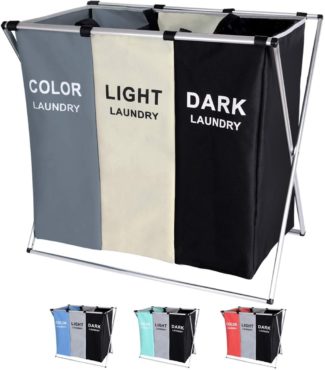 This huge laundry hampers with a capacity of 135 L is a must-buy for people with big families or who prefer to wash clothes once every few days. Designed with a robust aluminum frame and light-weight fabric bag, this sorter is durable and lasts long.
BRIGHTSHOW is made from oxford canvas fabric; this sorter has a single bag of large size marked with three different sections in three contrast colors. So, this not only looks attractive but also allows you to segregate your clothes properly, thus minimizing your washing time. The sturdy aluminum frame enables the bag to hold the heavyweight competently, and the mesh drawstring helps you carry the bag without letting clothes fall on the ground. Also, the collapsible metal frame allows you to fold and store the sorter in a corner when not in use.
Pros
Available in 4 attractive color combinations
Different colored sections for better organization
Can also be used as a toy basket
Easily foldable
Cons
Lack of wheels restrict its mobility
Has only one large, so it will be cumbersome to carry
4. Seville Classics Mobile Laundry Cart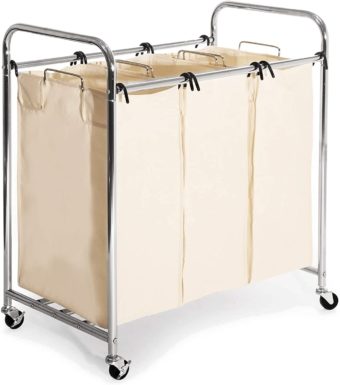 Seville is an extremely sturdy yet light-weight laundry cart that comes from a brand that is the market leader in providing storage organization and solution to buyers for the last 40 years.
The laundry cart is carefully designed with a robust tubular steel frame for strength, and the three crossbars at the bottom of the sorter provide extra stability and help secure the clothes without the bags sagging due to the weight. The bags are made of cotton-polyester canvas fabric that holds 10 lbs of weight each and is long-lasting. The bags can also be easily removed and washed in the machine. The long handles and the solid wheels let you push the cart smoothly while the two locks in the wheels let it stay stationary without unrequired movement.
Pros
Easy-fit under an alcove
Triple crossbar at the base for extra support
Washable bags
Large handles for easy holding
1-year limited warranty
Cons
Replacement bags are little overpriced
3. ROMOON Laundry Cart

This stably-built laundry cart with four bags allows you to sort and organize your garments efficiently and is an excellent addition to your laundry room.
Constructed with a sturdy cast iron metal frame, this laundry sorter is very stable and can easily hold all your laundry comfortably. The lacquer finish gives an anti-rust coating to the frame and makes it more long-lasting. Each of the four bags is quite spacious to hold clothes of 25 lbs. And the waterproof inner lining reduces the chance of unpleasant odor caused by dirty garments. At the base, you will find three crossbars that provide additional support to the bags for holding heavy weights. The sorter is easy to assemble and takes about 20 minutes of your time.
Pros
Waterproof fabric with easy maintenance
4 large capacity laundry bins
24-months warranty
Additional laundry sorter bags are available for purchase
3 crossbars at the base for extra strength
Cons
More color options are appreciable
2. Caroeas Laundry Hamper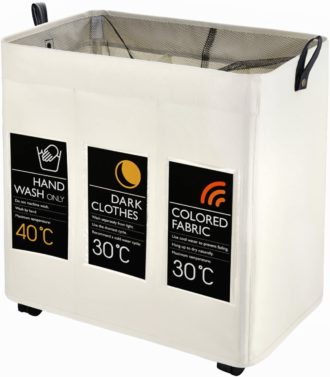 If you are looking for a perfect laundry hamper that holds all your dirty garments and can be easily rolled into a narrow space, this is the answer to that. With large waterproof bags made from eco-friendly PE film, this cart can also be folded into a small packet and store away while not in use.
With a lot of colors to choose from, this lightweight laundry sorter includes three big bags with six sort cards for classification that allows you to segregate your clothes into different bags. The fabric of the bag is waterproof and does not let moisture built-in and keeps it clean. The top of the bag is covered with a drawstring mesh layer that reduces the odor and keeps clothes together. The sturdy wheels are attached with rivets, and this allows easy rolling of this hamper into the laundry room.
Pros
Thin shape for a comfortable fit in narrow space
Breathable net cover for air circulation
Locks in wheels for safety
Easy expand and collapse feature
Cons
Support Rods are not very sturdy
1. Simple Houseware Laundry Cart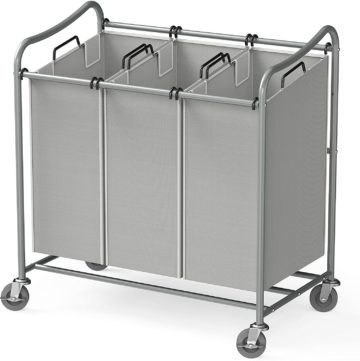 With an elegant structure and supreme quality material, this laundry cart from Simple Houseware is the best laundry sorter in the market.
The sorter consists of a sturdy steel frame with additional horizontal bars on the sides makes it quite robust. Each of the three bags can carry loads up to 11 gallons, and the bags can be easily removed from the cart for cleaning purposes. The bags allow you to sort your garments as per your need. The wheels are fixed with screws and roll smoothly. The waterproof fabric of the bags does not allow odor or moisture built-up inside it. With easy to follow instruction, it takes hardly 15-20 minutes to assemble this cart.
Pros
Additional horizontal bar on sides for support
Crossbar at the base for strength to bags
Wheels are screwed for durability
Different sections for better sorting of clothes
Cons
Bags gives away a vinyl smell when new
Buying Guide On Best Laundry Sorter
Buying the best laundry sorter is not an easy job to do. Laundry sorters are expensive, and people usually buy it for long term use. Thus, it is imperative to consider a few crucial points to get your favorite laundry sorter.
Storage Capacity
Laundry sorters are available in multiple sizes. While some are compact, others are huge with a high capacity. Sorters with multiple bags generally can hold more clothes than a sorter with one bag. A hanging bar at the top is a bonus that you can check too. An ideal laundry sorter will be the one that accommodates all your family's dirty laundry conveniently and still have a little room left to store more.
Construction
The fabric of the bags and the frame of the sorter determine its strength and stability. The bin bags made of high-quality polyester and canvas fabric generally last longer and are easy to maintain as well. A good quality bag should have a waterproof body with a plastic inner lining and a mesh layer for odor removal. Sorters with multiple bags give you the option to segregate your clothes properly. Also, the sorter with the best quality steel frame with the anti-rust coating is always preferred for its sturdiness and support.
Wheels
Since laundry sorters are used to place heavy loads of your dirty clothes that you need to carry to the laundry room for cleaning, wheels act as a necessary yet essential feature. Wheels help with the natural mobility of the sorter and thus should be of good quality that can roll smoothly on all types of floors. The safety locks on the wheels will help you to keep your sorter stationary and avoid accidents when kids try to roll it without supervision.
Besides these, a few other points to consider are the cost, warranty, look, and the foldable feature as well.
Conclusion
An ideal laundry sorter not only categories your dirty clothes in one place and make your house look more hygienic and organized, but it also saves your washing time to a great extent. A beautifully designed laundry sorter adds appeal look to your laundry room or kid's room, wherever you place it. With the reviews and buying guides, we assure you to get the best laundry sorter for your home.
Happy shopping and happy sorting!!!