The constant barrage of news and entertainment and the fear of missing out have made most of us addicts to screens on our televisions, smartphones and tablets. Most of us are not aware of how glued our eyes are to these devices. While there's little awareness about the long term effects of this to our physical and mental health,  the pressure it puts on our eyes is something most of us feel. Our curated list of 10 Best Eye Massagers in 2023 gives you the most effective ways to relax and destress your eyes from the comfort of your home or office.
Most analysts agree that our usage of electronic devices will only become more frequent and habitual. Worryingly, it's also age-neutral. From toddlers to senior citizens, all of us are repeatedly looking at our screens, and for longer durations. While that cannot be altered, what can certainly be done is routine destressing for your eyes, something we hope you take seriously. Eye fitness has to become a serious topic and from the list of 10 Best Eye Massagers in 2023 below, we hope you find a massager that will aid you in taking care of your eyes.
Best Eye Massagers in 2023 Reviews
10. Eye and Temple Massager with Infrared and Music Therapy from ETTG

Among the many things, our first entry offers, what excites us the most is the simulation in 3D with adjustable massage levels. The Eye and Temple Massager with Infrared and Music Therapy from ETTG surprise us with their advanced features that are both intuitive and customer-friendly. The temple massager is your friend when you need to rest and rejuvenate your eyes, as other than the simulation, it offers hot air therapy to relieve stress. The massager also comes with Bluetooth for you to enjoy your favorite music while relaxing. It's rechargeable and comes with a comfortable battery life.
Pros
Multiple levels of massage
User-friendly design
Bluetooth enabled
Cons
It may exert extra force in some cases
9. Rechargeable Wireless Eye and Temple Massager from B. Duck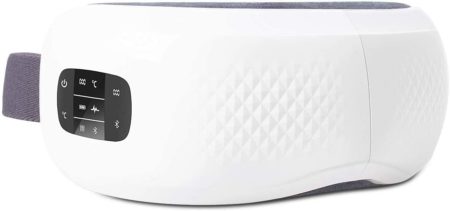 By the looks of it, it's straight out of a sci-fi movie. The Rechargeable Wireless Eye and Temple Massager from B. Duck, as the name suggests, is a rechargeable massager that can work on a single charge for up to 2 hours. Not that you would need to use it for that long, as this intelligent apparatus knows to focus its efforts on those pressure points – 8 acupoints to be precise – that yield the maximum relief and comfort. The massager also has comfortable airbags that provide support as it gets to work on vibration and heat pressure.
Pros
When charged, it can last up to 120 minutes
Comfortable airbags
The length can be adjusted
Cons
8. Portable Eye Massager with Sonic Vibration from TOA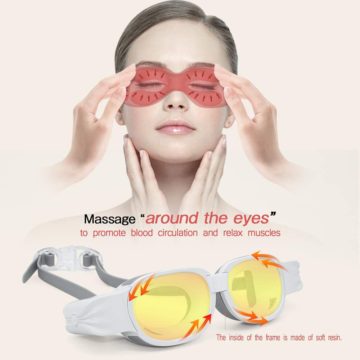 Many things stand out in this massager but the one that interests us is its material. The Portable Eye Massager with Sonic Vibration from TOA is made of silicone and therefore, comfortable and long-lasting. The second feature that makes it distinct is the fact that you are not blinded while the massager is in use. You could read or watch TV while your eyes and temple get that much-needed relief. This distinctly designed product can be worn to sleep so that you can wake up refreshed and recharged. The massager is also easy to store and carry.
Pros
Made from silicone
You can watch TV or read a book while wearing it
Can be worn outside too
Cons
The size may be small for some users
7. Electric Temple and Eye Massager from OSITO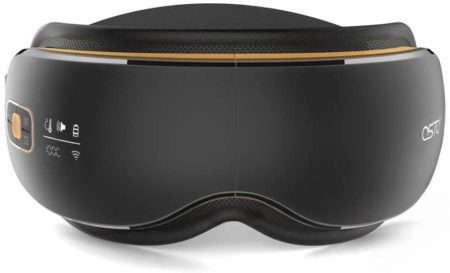 It has a sleek design, is comfortable to wear and, importantly, is designed for the overall health of your eyes. The Electric Temple and Eye Massager from OSITO use pressured air to massage the areas around your eyes and give you indescribable comfort. It does so by a unique method of increasing and decreasing the pressure on the important points in the ocular region that need them the most. As its heating gets to work, the circulation of blood around your eyes will considerably improve, removing puffiness and exhaustion. It's made of skin-friendly, light material with adjustable length.
Pros
3 massage modules
Comfortable to wear
Adjustable fit
Cons
Durability is an issue for some users
6. Electric Stress Therapy Temple and Eye Massager from Serenelife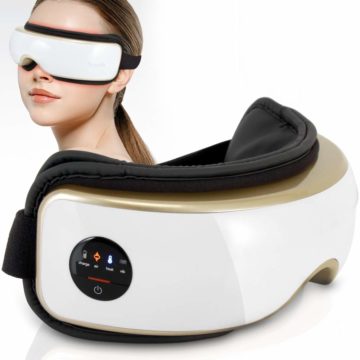 The key principle behind the Electric Stress Therapy Temple and Eye Massager from Serenelife seem to be flexibility. It's built to offer maximum comfort at levels that are customized to the specific needs of its users. It has 5 massage modules to choose from, through an easy-to-use digital display. The pressured air works well to remove eye strain and tension in the muscles around your eyes. The elegantly designed massager can also be folded, making it easy to pack and carry. Put it on, play music through its in-built speakers and let your eyes be pampered.
Pros
5 different preset levels of massage
Can be folded
Attached music player
Cons
5. One-Click Eye Massager from Bromose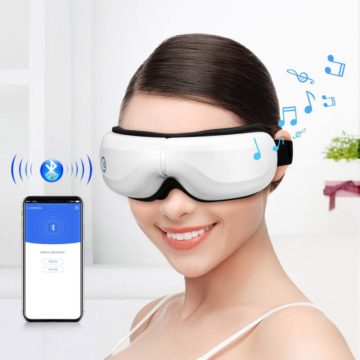 When eye and temple massagers use the latest in digital technology, what you get is a product that you just can't ignore. The One-Click Eye Massager from Bromose is a perfect example of a product defying the limitations of the category. It comes with 5 in-built modules tailored to the activity of the user, including sleep, dynamic and comfort. The state-of-the-art microchip uses hot air and airbags to deliver focused massages that relieve muscle tension around the eyes. And all of this is at the click of a button.
Pros
Comes equipped with 5 smart modes
Can be connected to your smartphone to listen to music
Works well for those suffering from insomnia
Cons
The massager's length isn't as adjustable as those of others
4. Hot and Cold Eye Massaging Wand from Pretty See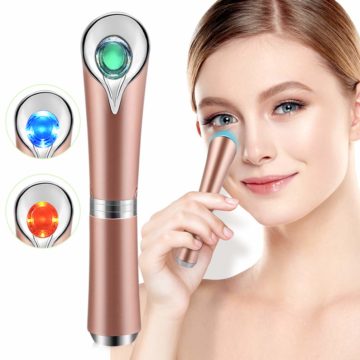 If massage bands are not your cup of tea, here's something you should consider. The Hot and Cold Eye Massaging Wand from Pretty See is a breakthrough product that comes in a unique shape. You can point it towards the area you believe needs some relief and the machine goes to work quickly. The wand uses both cold and hot compression to relax facial muscles. It's not just a massager for your eyes, but can be used anywhere on the face. Think of it as a comprehensive skin rejuvenator that's handy to use.
Pros
Unique shape
Both hot and cold compression
Useful against dark circles
Cons
Limited temperature control options
3. Rechargeable Eye Massager for Sleep Comfort from Osito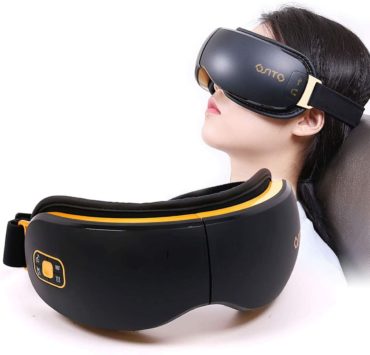 If there are a temple and eye massager designed to get you to sleep better, then this is it. The Rechargeable Eye Massager for Sleep Comfort from Osito comes with a timer that switches off the machine after 15 minutes. The machine that comes with a band that can be adjusted according to the user's preference also can download music, elevating the overall comfort. The vibrations are smooth and gentle, while the pressured air works on your eye muscles.
Pros
Designed for better sleep
Timer for 15 minutes
Music can be downloaded to the massager
Cons
The heating system is questioned for its durability
2. Eye Massaging and Skin Tightening Wand from Landwind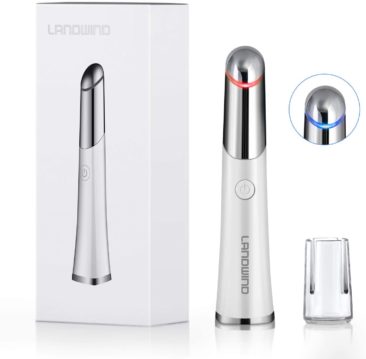 The second wand in our list of 10 Best Eye Massagers in 2023 focuses on more than just relaxing your eyes. The Eye Massaging and Skin Tightening Wand from Landwind position itself as an anti-aging tool that works to rejuvenate your facial skin. It achieves that by tightening your skin, relieving stress and balancing skin complexion. Use it to get rid of crow's feet or use it on your nose or lips to smoothen the skin there. The wand, with up to 10,000 vibrations every minute, is an excellent machine to make your skin look younger and full of life.
Pros
Tightens facial skin
Can be used on eyes, nose and lips
Removes dark circles and crow's feet
Cons
In rare instances, the heating system disappoints
1. Portable Shiatsu Electric Eye Massager from Breo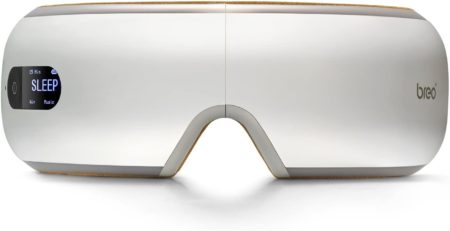 At No.1 on our list is a highly-acclaimed product that combines the best of traditional knowledge with the latest in science. The Portable Shiatsu Electric Eye Massager from Breo uses a smart microprocessor to regulate pressured air and focus the massage on the most needed areas around your eyes. The heat it generates relieves tension in the muscles while increasing blood circulation. The kneading of the massager is inspired by traditional Shiatsu techniques that have stood the test of time. The elastic band makes it comfortable for everyone to wear and enjoy the eye and temple massage from Breo.
Pros
Kneading based on Shiatsu techniques
Advanced microprocessor inside
The elastic band is flexible and comfortable
Cons
At times, the notification beeps can be loud
Conclusion
It's not a luxury anymore. A good eye massager is a necessity in an age where we relentlessly overwork our eyes and fail to see how exhausted they are. The 10 Best Eye Massagers in 2023 features some of the best products in the market, known for their technology, ease of use, aesthetics and customer-ratings. Get one immediately. Your eyes need a spa treatment as much as you.