After a long and tiring day at work, who does not need a relaxing foot massage to prepare you for the next day. After hiking or long standing hours, you may experience muscle pain in your foot. While at work, a lot of us may also experience Restless Leg Syndrome which leads to tired feet at the end of the day. It is not possible to knead your legs on your own after all, your body is tired too. This is where you feel the need to have the best leg massager at home.
A good leg massager will feel like a massage therapist hand kneading your legs. At the same time, you don't want the battery to drain before you start feeling relaxed. Moreover, you would want the massager to feel great and massage your entire leg. There are, therefore, multiple parameters in selecting the best leg massager. The market is flooded with leg massagers and you may not have expert advice or time to choose which one works best for you. We have done the hard part of choosing the right massager by bringing you our well-researched list of top 10 leg massagers.
Best Leg Massagers in 2023 Reviews
With our well researched article, it will be easy for you to choose the perfect leg massager for your home. We have highlighted key features to help you make the right buying decision.
10. Omron Vibrating Foot Massager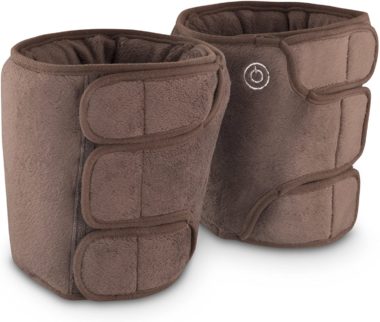 Omron's Vibrating leg massager is from Japan and is very gentle on the skin. Very easy to use as you just need to wrap the massager to your leg and it is ready to work. The massage is comfortable and gives you as sense as something is moving to knead your feet. One issue you may face is the instruction manual is in Japanese. However, as the product is well defined, one just needs to plug in the cord in the massager and another side to wall socket and you are ready to go.
Key Features
Relieves muscle pain
Gives sense of movement
Cuffs fit perfectly around calves
Improves blood circulation
Easy to operate
9. Fitking Full Leg Foot Massager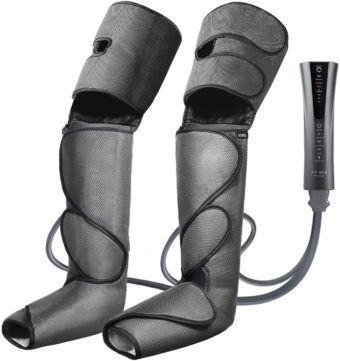 Where most of the massagers are focussed on feet only, Fit King Full leg massager comes with 3 modes and 3 intensities to massage your feet, calves and thighs. The three intensity modes of whole, sequence and circulation offer you ten different kinds of massages. Multiple airbags help you relieve muscular pain and fatigue easily. It fits perfectly to everyone and comes with extensions for people with broad calves. Weather you have edema or varicose veins, it is suitable for all making it one of the best leg massagers available.
Key Features
Three modes for 10 different massages
Three intensities as required
Covers full leg, feet, calves and thighs
Portable
2 free extensions to fit broad calves
Effective on edema and improves blood circulation
8. Amzdeal Leg Massager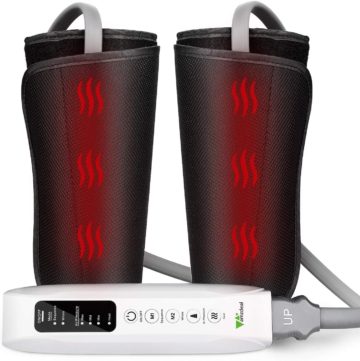 Amzdeal leg massager comes with air compression technique to quickly heal swollen legs and helps you recover faster. The massager comes with a built in battery which makes it portable and usable at any place of your choice. On a single charge, the massager works for upto two hours giving a quick and effective massage. Amzdeal gives you 2 modes and 3 different intensities to choose from as per your need. Whether it is after your hard workout or a long day at work, This air compression foot massager offers you a variety of massages with its adjustable wraps that can fit even your arms.
Key Features
Built in battery with 2 hour backup
Air compression technology
Multi functional
Auto cut off
Easily adjustable wraps
Three intensities and two modes for a variety of massages
7. Quinear Leg Massager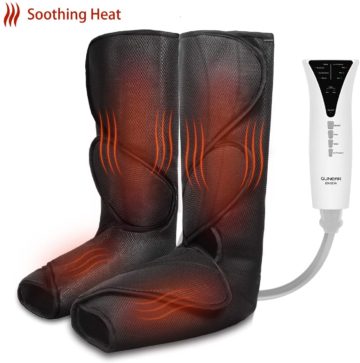 Quinear brings you a heated air compression massage with the help of this foot massager. It is equipped with 2*2 airbags for effective leg kneading for better blood circulation. With 3 modes and 3 intensities, you can personalize your massage as per your need. Whether you have cold feet or your legs have been hanging from your office desk, you just need to adjust the mode and your individual massage is ready. The leg wraps are adjustable with the help of extra extenders. Extremely portable as it comes with a travel bag.
Key Features
20 minute auto cutoff
Heated air compression
2*2 airbags
Can be used for variety of massages
Portable
Adjustable wraps with 2 extenders
6. Shiatsu Cloud Massage Leg Massager
In case you want to experience an innovative let massager that relaxes your entire body while gently kneading your leg tissues, you can't miss this one from Shiatsu. The leg massager comes with a rolling stick and a rotation ball that gives you a deep tissue massage and improves blood circulation. It works on minute details to relax muscle pain in your toes, ankle, heel, feet and calves simultaneously. The airbags cover your feet completely and provide you with a heated massage for better good night sleep.
Key Features
Deep tissue massage with rolling stick and rotation ball
Combines heating and air compression
Large airbags for more comfort
Better blood circulation
Portable
Three modes for an effective massage
5. Miko Shiatsu Leg Massager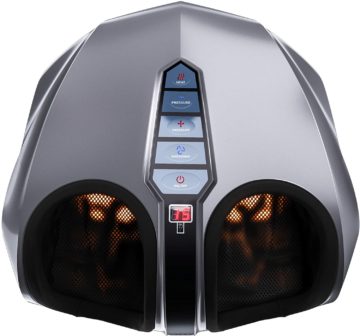 With Shiatsu rolling and heating, you can rely on this leg massager from Miko to relax your tired legs. The leg massager gives deep tissue foot kneading. With 5 heated air pressure variations and separate remotes, this is one of the best choices for best leg massagers. The foot massage helps in plantar fasciitis, fast foot syndrome, better blood circulation, muscle pain, cold feet and whatnot. This makes it truly a multi functional leg massager available. Miko additionally offers you a one year warranty for worry free use.
Key Features
Easy to operate
Air pressure with heating
Multi use
Two remotes
Separate chambers
4. InvoSpa Leg Massager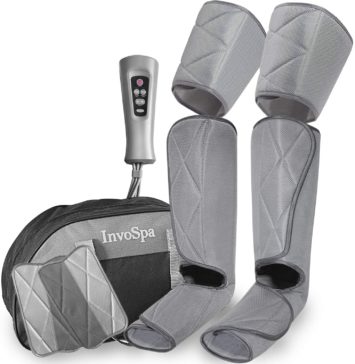 InvoSpa air circulation leg massager covers your full legs to give you that much needed relaxing massage. The leg wraps are completely adjustable across your feet, calves and thighs to give you optimum benefit. It comes with a remote controller, 3 modes and 3 intensities to give you a variety of massage plans to choose from as per your requirement. The leg massager helps in better blood flow due to its cyclical air compression technique. The massager has an auto cut off function for your better safety.
Key Features
3 modes, 3 intensities
Auto cutoff
Handheld remote controller
Full leg massage
Cyclical air compression
Adjustable straps
3. Cincom Leg Massager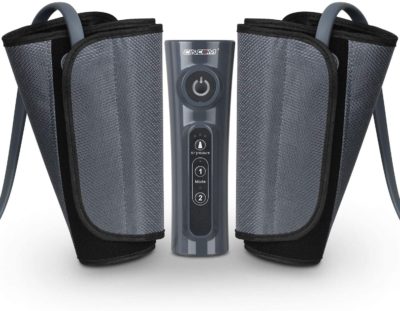 Cincom brings you one of the best leg massagers for edema and restless leg syndrome. Very easy to use, This leg massager comes with adjusting velcro wraps to fit one & all. With 2 modes and 3 intensities, it offers you a variety of massage options to choose from. Cincom offers you better safety with auto cut off after 20 minutes. It is helpful not only in relaxing your tired feet or muscle pain but can help in medical conditions of edema and RLS. The massager comes with 2*2 airbags and a remote controller for better functioning.
Key Features
2 modes, 3 intensities
Helpful in medical conditions like RLS and Edema
Auto cut off for better safety
Handheld remote
Easy to operate
Adjustable velcro wraps
2. Copeaky Nursal Leg Massager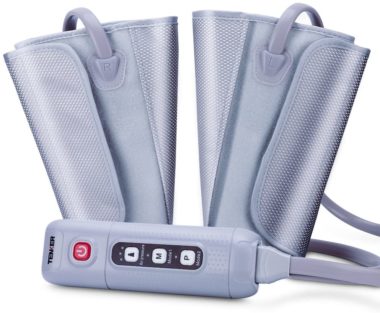 Nursal leg massager is equally efficient for Arms, legs and feet. Due to its innovative design including copper pump, the air circulation gives you a feeling of your massage therapist. With two modes and three different intensity levels, you have your massage options at your fingertips. The leg massager has two adjustable leg wraps and auto cut off function for easy use and better safety. Very easy to operate, it can be used by young and elderly alike.
Key Features
Extremely easy to use
Wide leg wraps with adjustable extensions
Pure copper pump for best massage experience
Two modes, three intensity levels
Auto cut off
Can be used on tired legs and for medical conditions
1. Renpho Leg Massager

Renpho's full leg massager comes at the top on our list of best leg massagers. It relaxes your feet, calves and thighs alike focussing on every minute detail. With six different modes and four levels of intensity to select from, you have a number of massage options available. The large adjustable leg wraps can fit in anyone even if someone has extraordinary size. With the help of a handheld controller, you can switch and change modes quickly with ease. Renpho offers you a safe and ergonomically designed leg massager that is portable and easy to use. Whether you are an athlete or just have tired legs due to long standing or sitting hours, this leg massager is an ideal choice for you.
Key Features
6 modes, 4 intensity levels
Full leg massage
Handheld controller for extra comfort
Easy to use
Auto cut off
Large leg wraps
Multifunctional usage
Final Thoughts
The enlisted leg massagers and many others are suitable for giving you a nice soothing massage at home. However, none can replace your massage therapist, though some come pretty close. We have done our research on getting you the top 10 best leg massagers available in the market. Though the list is comprehensive enough to help you make the right buying choice, every individual need is different. You need to analyse the purpose of your buy as some support the medical conditions while others have done. At the same time, some can be used by all and easy to operate. Moreover, you may also need to give a thought whether you want to buy a built in battery leg massager or a regular one. We wish you all the best in your search.