The digital era brings in new opportunities. Now, people can showcase their talent from the comfort of home. If you are into making small videos in TikTok or are striving to be the new top YouTube artist, lighting is important for you. But obtaining a proper source of lighting every time is impossible if you do not have a professional set-up. So, a ring light with stand will be your new best friend when it comes to making high-quality videos.
Here are some of the professional ring lights with stand that will help you achieve the goal of making high-quality videos or photos. Find the product under your budget and start soon.
What makes a selfie ring light best?
Choosing the best selfie ring light is not a big deal! You just have to take care of some of the features and then you will be loaded to buy the best selfie ring light out there. The first thing that you have to see is the size of the ring or the number of LED lamps that the ring offers. It can be said that the bigger the ring size, the brighter the light will be. If you are looking for very bright lights it is useful to go for bigger lights.
You would also like to adjust the warmth and the brightness of the ring light. It is crucial because different subjects in different environments require different degrees of lighting. Thus, ring lights that feature a huge array of brightness and warmth options are immediately a big YES!
The last thing that you should note when looking for selfie ring lights with stands is the stand, go for stands that area crafted from aluminum or an alloy of it since it is lightweight while also being durable lights that provide multiple stand options for your desk and the ground are always a better choice. You should also make sure that the stand offers versatile height settings as it is much more convenient. 360-degree rotation of the light and the phone in all directions is also a desirable attribute in stands.
Best Ring Lights with Stand Review
10. UBeesize Selfie Ring Light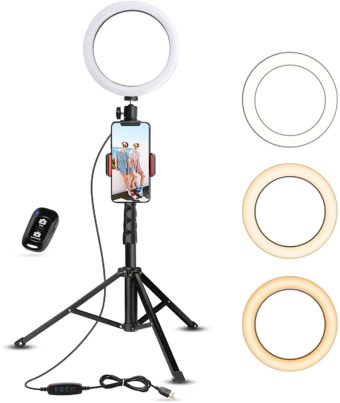 Ring light with a stand such as the UBeesize Selfie Rung Light is a terrific device to have in your home. This is an amazing, multifunctional ring light with a stand that you can set up on your desk or on the ground. The tripod stand has a weighted base such that it always holds itself stably on any terrain you put it on. Besides, the quick-flip locks add to the ease with which you can use this tripod stand.
The stand has provisions to hold your phone. Hence, allows you all kinds of rotations in all directions for the best viewing angles. The phone holder has a spring-loaded operation and it opens up to 3.6-inches wide. Hence, allowing you to fir nearly all the smartphones available in the market.
Key Features
The ring lights feature 11 modes of brightness that ranges from 0% to 100% illumination.
Its phone holder is extendable between the heights of 17.5-inches and 51-inches to suit your many needs.
This is a mini product that will come in handy for travel purposes.
9. LETSCOM Selfie Ring Light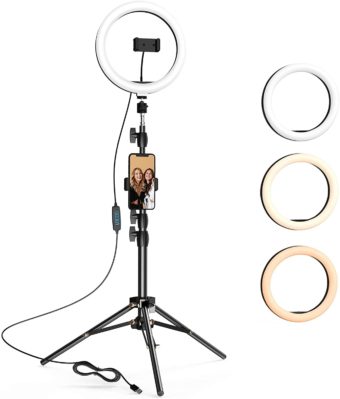 The LETSCOM Selfie Ring Light is a terrific selfie ring light to bring home today. If you are fond of taking selfies or are involved in macro photography, food photography and so on, you need a ring light such as this. The light's brightness is adjustable between 10 levels between 1100 and 2200 lumens. You can also choose the warmth or temperature of the light coming out between warm light at 3000K, cool white at 4500K, and daylight at 6000K.
Furthermore, the stand is supported by a weighted base and can extend between 16-inches and 53-inches in height. The USB power cord that runs the lights is 3 meters long. Therefore, allowing you to adjust the tripod in any way that you want.
Key Features
The tripod comes with two phone holders, both of which allow all-around 360-degree adjustments for the best viewing angles.
It's ideal for both iOS and Android phones that makes it flexible.
You can easily switch it on or off without needing any expert help.
8. GPED Selfie Ring Light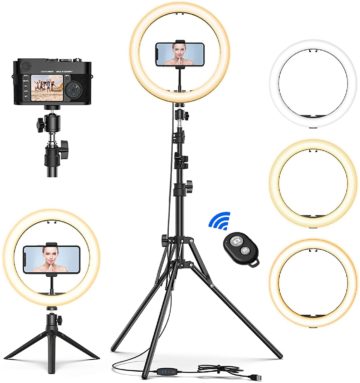 The GPED Selfie Ring Light's most exciting feature would be the 10 levels of temperature settings. As a result, it provides between warm light at 3000K to white light at 7000K. The ring light has a diameter of 12-inches. Besides, it is composed of 180 individual LED pieces to get you continuous, bright, shining light. The light coming from this device is consistent and sure to leave no shadows or lines on any subject.
Whether you are a YouTuber or a vlogger or are simply into macro mode photography, this selfie light with a tripod is the ultimate deal for you. The tripod is also very stable and has a weighted base.
Key Features
This ring light device can be easily controlled using your phone. Well, it has a Bluetooth remote control that allows you wireless control.
There are 3 different levels of lighting color modes for perfect light settings.
You can easily connect it with a USB for establishing a proper connection.
7. YingnuoST Desk Ring Light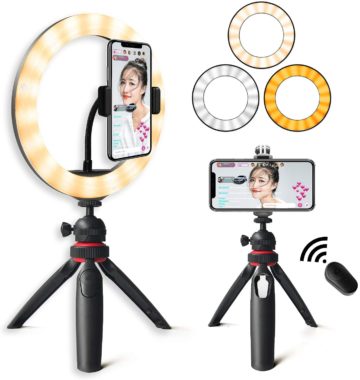 Indeed, a powerful and long-lasting ring light for clogging, YouTube videos, makeup tutorials, or photography attempts. This is a simple setup with a 10-inches ring light and a small, compact tripod stand that easily fits on your desktop. The tripod has all the essential add-ons such as that you can easily fit your phone onto the frame. And go shooting any time you want to.
You may also control the actions of your camera using the wireless Bluetooth remote that features an amazing range of 30 ft. The phone holder is so designed that it is hidden within the tripod. Hence, saves you space and provides you with a safe place to store it.
Key Features
YingnuoST is proud to deliver this exciting and amazing selfie ring light with a tripod stand. Hence, assures its brilliance with the 24 months' warranty backing the device.
The 360-degree arrangement of the ring light is a superb feature. Thus, allowing you to light the subject in the exact way that you want it to be lighted.
Its color temperature ranges from 3000k to 6500k that will be perfect for your videos.
6. AHK 10-inches Selfie Ring Light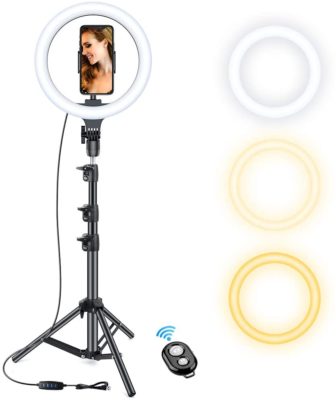 You can get the best kind of lighting while making videos using the 10-inches Selfie Ring Light from AHK. This terrific light features a total of 30 different modes. It features 3 temperature settings between warm and white light. And each of these settings features 10 levels of brightness for your convenience.
Moreover, the tripod stand is loaded with a 2m power cable for convenient use. The tripod is crafted from aluminum and features a stable and durable body. You can remove the tripod attachments and use the stand as a selfie stick.
Key Features
It is uniquely designed such that you can let go of the attachments. So, use it as a simple table tripod stand.
The holder is spring-loaded and is expandable up to a width of 3.6-inches.
 It is just enough to fit most of the standard smartphones available in the market.
5. UGOODS Selfie Ring Light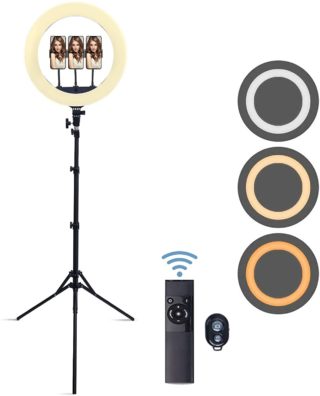 The UGOODS Light is a tremendous device that can get you the best kind of lighting for photography and videography purposes. The ring is 21-inches in diameter and loaded with 160 individual lamp units. As a matter of fact, it works together to give you the best glow. The lamps feature different levels of brightness. Plus, it is adjustable to produce different temperature lights between warm at 3000K and white at 6000K.
As a matter of fact, the light, as well as the camera, is controlled via the Bluetooth remote provided in the pack. The stand is such that it can operate between the heights of 37-inches and 95-inches.
Key Features
Each of the 160 LED lamps is expected to last for about 100,000 hours before they wear out.
The phone can be attached to any of the 4 USBs loaded on the stand.
Comes with a lens technology feature that ensures that the LED light is not so strong on the eyes.
4. UBeesize 10-inches Dimmable Ring Light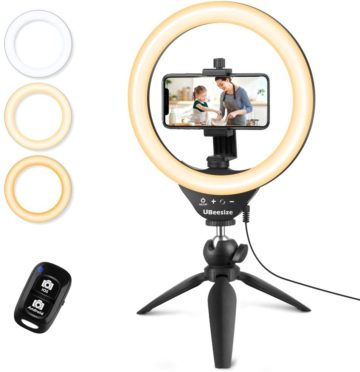 UBeesize is a reputed maker of electronic goods and the ring lights stand up to expectations. This amazing ring light design features 3 warmth settings for you to choose from. Each of the warmth levels can be adjusted between 0 and 100% brightness levels at 10% intervals. Therefore, allowing you a total of 30 lighting modes. Besides, the phone holder loaded with the tripod is such that it can hold any smartphone up to a width of 4.5-inches.
Given that, projectors and webcams can also be adjusted on the stand with ease and convenience. Lastly, it features a touch panel. So, you can easily control the settings of the ring light without any hindrance.
Key Features
It comes with a Bluetooth operated remote. So, you can easily control the camera on your phone from up to 30 feet away.
This is a perfect product for iOS as well as Android options.
One can rotate the phone clamp to adjust it accordingly.
3. UEGOGO 10.2-inches Ring Light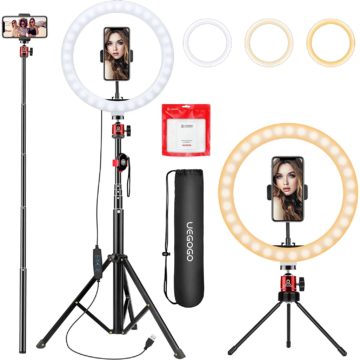 The UEGOGO Light features a 10.2-inches diameter and comes with bright KED lights to sufficiently light up any subject. The ring light is coupled with a table stand and a ground stand for your convenience. Both the stands are crafted from an alloy from metallic aluminum. As a result, they are stable, sturdy and durable.
The light itself features three different temperature modes to suit the need of the hour. For each of the modes, you can also choose from 10 different levels of brightness.
Key Features
The floor-standing tripod is adjustable to a height of 21-inches from 12-inches at 5 different levels.
One can disassemble it simply to use it as a selfie stick with or without the ring light loaded on to it.
Operate it with a remote and even connect it to the USB that makes it highly-advanced.
2. Misiki RGB Ring Light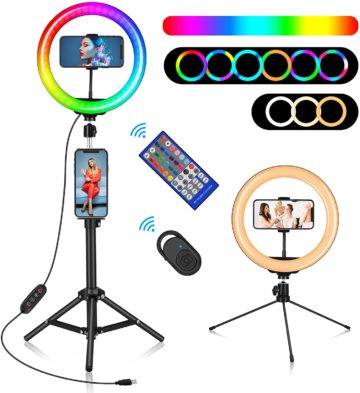 The Misiki EGB Ring Light is unique and amazing and allows you to light up your subject in all kinds of ways possible. If you like macro photography and different kinds of videography for vlogging, YouTube videos, and so on, then this is the absolutely right choice for you. This ring light features an RGB interface allowing you to choose from 20 static RGB colors. It also features the usual warm and white light settings. Therefore, allows you to choose the level of brightness that you would find most suitable.
Furthermore, the tripod stand is also durable and can extend between 17-inches and 60-inches in height. The ring light is also equipped with a tripod stand that you can set on the desktop for your convenience.
Key Features
The USB power cable is 78.7-inches long. So, you can easily set up your tripod stand and ring light on most surfaces without much ado.
A remote is included in the pack. It is solely used to control the phone's camera as you are clicking your pictures or making a video using the ring light.
1. TONOR Selfie Ring Light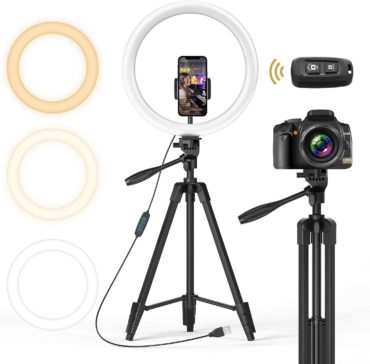 Whether you are going for a zoom conference or are making a video to launch on your YouTube channel, proper lighting is very important. Thus, TONOR has come up with this impressive Selfie Ring Light that will get all kinds of jobs done. The LED lights can be adjusted to feature warm or white light- there are 3 different modes. You can also set the brightness of your light as per your needs between 10 levels for each of the warmth modes provided. The tripod stand is compatible with all kinds of smartphones. So, you can also set up digital cameras or smaller DSLRs.
It is adjustable between 16-inches and 52-inches for flexibility. The warmth of the light is adjustable between 2700K and 6500K for the desired type of light.
Key Features
The LED light can be connected to a 2m USB cable that powers it. Its long length of the cable ensures that you can set up your tripod any way you want to!
This tripod has a construction out of metal that gives it strength.
The lamp offers an impressive life of 20000H.
How safe are ring lights with tripod stands for your smartphone?
Selfie ring lights with stands are very safe for your stands. In most cases, the stands are crafted from metallic aluminum, aluminum alloy, or tough plastic materials such that they have a sturdy and durable body. The phone holders are spring-loaded such that it always holds your phone strongly. The power cable is loaded with an adapter such that it cannot harm your devices in any way. Also, since LED lights are used, you do not need to think of high temperatures as these lights do not get heated when used!
So, record a professional video and do your Instagram lives professionally, the portable ring lights with stand will always bring amazing results. Hence, be a professional by using professional equipment.