You need a monitor stand if you work on computers or monitors for a long period. This is so because monitor stands can help prevent back and neck pain by placing the screen in an ergonomically ideal location.
So whether you are gaming or trying to get office work done, you can do so in a safe way. Most people use only one or two monitors and can easily find monitor stands. However, what about you with three monitors?
Read on to find out the top 10 best triple monitor stands that you can find in the market.
The triple monitor stands, you would find on this list have been tested. When properly installed, they can help you complete that worksheet in time or defeat your enemies in the gaming world as the case may be.
So say goodbye to the constant back and neck strains that you used to experience. These stands are the best out there and we are here to help you choose the one that best suits your needs.
Best Triple Monitor Stands – A Complete Guide:
10. Mount-it Triple Monitor Mount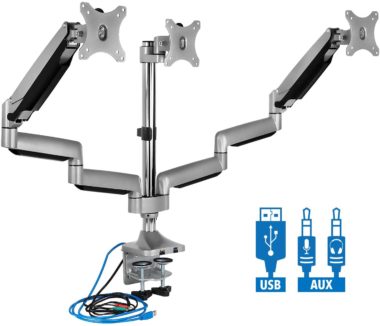 This is one of the best triple monitor stands in the market. It can fit monitor sizes from 24 inches to 32 inches so you do not have to worry about the size.
In regards to weight, it can hold up to 15.4 pounds.
This stand has a nice stainless finish that is sure to add an extra spice to your office space or home.
Not satisfied with the angle the stand is placed? You can easily adjust it. You can tilt the handles up and down, left and right until you reach your desired angle.
The stand is also so easy to install, that even without much technical skill, you can still install it.
Key Features
Easy to install
Comes with a USB 3.0 port and audio port
In-arm cable slots that keep your cord neat and in place
9. TechOrbits OF-MAA-0336 Triple Monitor Stand
The adjustable design of this stand from TechOrbits is great if you are always on conference calls. You can easily move and shift this stand to give you the best angles.
This stand holds your monitors well, so you have no worries about whether they would fall. A note of caution with this stand is that you should not use it on a weak table. This stand can hold up to 60 pounds combined. You need a table that can hold that weight too.
You can install this stand on your table with ease. Made with aluminum this triple monitor stand is sure to last for a long time.
Key Features
The three arms can hold up to 60 pounds combined
Made with a light yet heavy-duty aluminum material
Easily adjustable
8. VIVO Stand Triple monitor stand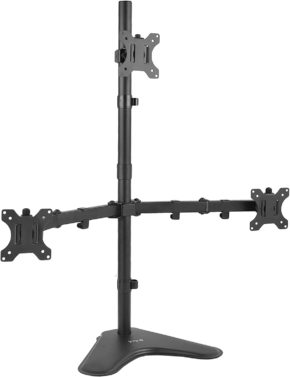 Do you want a stand that can hold even more weight? Then VIVO is here for you.
The VIVI V003E triple monitor stand can hold up to 22 pounds on each arm – bringing the total weight support ability to 66 pounds. This is almost 6 – 7 pounds more than the average triple monitor stands.
The stand can only tilt -15 to +15 degrees. However, this does not mean it is not flexible at all. You can still adjust the stand's height and rotate it in a full circle (360 degrees).
The monitors you can use on this stand can range in sizes of up to 27 inches.
Everything that you need to install this stand is included in the package. You can have this stand up and running under an hour.
Key features
Can hold the weight of up to 22 pounds
360 degrees rotation
Neat design and cable management system
7. SIIG triple monitor stand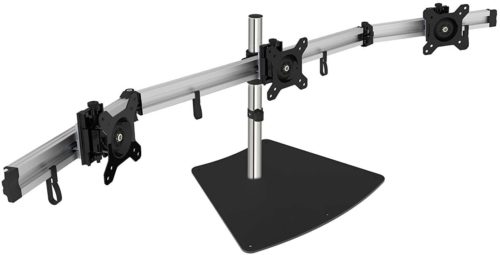 If you are in the market for a stand that is simple yet efficient, then this is for you.
The stand sits on a free-standing base that ensures that your monitors do not fall as you use them. It does not come with too much package.
This stand is not for heavy monitors as it can only hold monitor weights of up to 17.9 Pounds. You can use monitors that are as wide a 27 inches without any restrictions on this stand.
In terms of flexibility, you can rotate and tilt this stand for your convenience.
Key Features
Simple design
Made with durable materials
Can hold monitors with sizes up to 27 inches
6. EZM Deluxe Triple monitor stand

This EZM triple monitor stand weighs about 31 pounds, so you can be sure that it is heavyweight.
When using this stand, you need to place it on strong tables or desks, so that they do not come crashing down.
The stand has the ability to hold 3 monitors that are as wide as 28 inches. Although flexible, this stand is somewhat limited. Therefore, to get the best out of its flexibility, the monitors need to be of the same size and model.
You can tilt the EZM Deluxe stand -30 to +30 degrees and rotate it a complete 360 degrees.
The stand is also great if you want to work while standing. You can easily adjust the height to your convenience as you work while standing.
Key Features
Super easy to install
Great flexibility if monitors are of the same size
Strong and sturdy build
5. Ergotech triple monitor stand
Looking for a heavyweight in the market? You cannot go wrong with this one.
This is the best for you if you are looking for a stand that can hold your heavy monitors. This stand can hold a combined weight of 75 pounds.
It is also so convenient to use. For optimum convenience, you can adjust the monitors in any direction – up, down, left, and right. They can even rotate 360 degrees.
The VESA mounting points also make the stand so easy to install. You might not even break a sweat while trying to set this up.
The stand itself weighs 27 pounds. At full capacity (The stands and three monitors), you would have over 100 pounds of weight. To handle this kind of weight, you need a strong desk and not those fancy glass ones or the ones made from cheap wood.
Key features
Can hold up to 75 pounds
Comes with a strong build
Easy to install
4. Amer monitor stand

Are your monitor screen larger than 27 inches? 29 or 30 inches maybe? Then this is the perfect monitor stand for you.
The design of this stand allows it to hold 30 inches without problems. That means you have more screen for the perfect gameplay view.
Unlike other monitors on this list, this stand comes with two feet. This is so that it can provide support for your wide screens.
As expected, you would need a large and strong table to hold this kind of table. Aside from the width, you can adjust the height as well. This makes it ideal for when you are working while standing.
Key Features
Can hold 30-inch monitors
Strong build
Adjustable height
3. AVLT triple monitor stand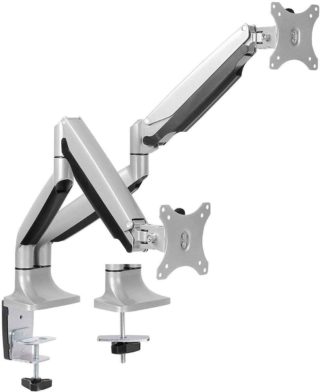 Are you tired of the design you see with all the other monitor stands? Check this stand from AVLT out before you give up.
This stand's design is not like the others. AVLT made this one be highly customizable.
It does not matter what you want to use your monitors for, you can easily adjust it as you like. Do you want to play video games? Arrange them side by side. Want to read? You can easily switch your monitor's orientation from landscape to portrait depending on your needs.
Away from the flexibility in design, this stand is also a remarkable sight. It adds freshness to your home or office space.
Key Features
Highly customizable
Beautiful aluminum finish
Strong and durable
2. Jestik Horizon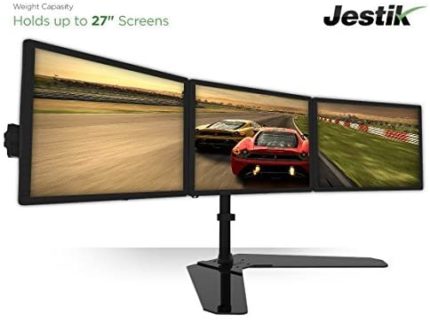 If you are looking for a triple monitor stand with a classic finish, then this is the one for you.
The stand is made almost completely with metal and aluminum. The only places you would find plastic is in the adjustment knobs.
This is a stand for the cool kids. Want to hear something that is even cooler? The stand comes with an anti-theft kit so you can monitor it easily.
You should go for this stand if you are looking for something that is both aesthetically pleasing and useful.
This Jestik Horizon triple monitor stand can hold 3 screens of up to 27 inches and weigh around 18 pounds each.
Key features
Amazing viewing experience
Easy to set up
Incredible build quality
1. WALI triple monitor stand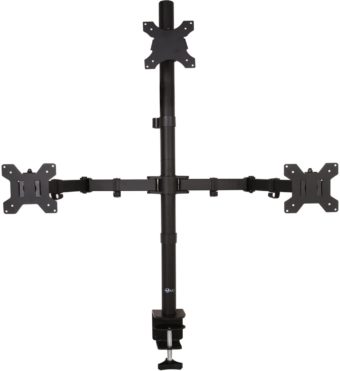 Instead of drilling the wall to mount the monitor, you can simply mount the bracket to the back of your desk.
It comes with a desk clamp and optional grommet mount in case you already have a hole in your desk for the monitor stand.
The stand adapts to any environment, be it an office cubicle or a game station. In addition to a neat cable management system, the holder also features an Allen key compartment. All the tools you will need are included with the stand.
The WALI monitor arms contain a gas spring, this creates a suspended free-float effect that allows you to instantly and easily adjust the position of your monitor. The height of the monitor can be easily adjustable on any of the monitors.
Key Feature
Great value for money
Durable
Adjustable
Conclusion
There you have it, the top 10 best triple monitor stands in 2023. Just as you have different needs, these stands come with different features to satisfy these needs. Want a stand that holds wider screens? Or one that is more customizable? Or has a great finish? You can find them on this list.