Gone are the days when you had to be concerned about meeting new people and not having a common language to interact with. Technology has evolved and brought in new innovations. Language translation earbuds are undoubtedly the latest technological innovations in the line of translation devices. Easy to use, all you need to do is to wear them on your ears to translate the language to your preferred language. These earbuds are specifically helpful if you need to frequently travel abroad or deal with international clients. Furthermore, charging the earbuds is completely easy. All you need to do is to put them in the case they come in to charge the earbuds.
Looking for one for your personal or professional purpose? Here is the list of language translation earbud brands that truly impressed the users with the performance. So, make your choice now.
Why should you buy language translation earbuds?
If you have great trouble communicating with strangers in a foreign country with a different language, this product will greatly come in handy. Especially if you have to make constant business trips and phone calls with speakers of other languages, you can use this device for real-time translations, so that you can carry out a smooth conversation, no matter where you are and with who. Besides, in case you are trying to learn a new language, these earbuds will greatly help you to learn quicker through practical application wherever you go.
Also, the product is wireless a better accompanier than the DVDs which require you to sit down with them. The buds also offer the latest Bluetooth 5.0 technology, which makes the sound nothing but crisp clear, when you are on calls or listening to music. Most of them also vouch for a great transmission distance, so that, you do not have to stay stuck with your device in order to practice your language skills. The earbuds being mostly accompanied with suitable applications are very user friendly too.
Best Language Translation Earbuds in 2023
10. JoveTrans Mix Translator Earbuds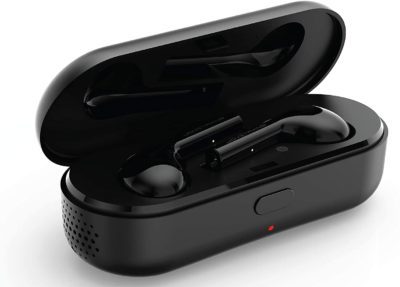 If you love to learn new languages with practical practice, this product will greatly help you speed up that process. The earbuds are equipped to help you with as many as 56 different languages all over the world. So you will surely find the language that you have been hunting for. Moreover, this product also prides itself on its accurate translations. It is made possible with the help of AI and big data.
Another great thing about this product is that the item is water-resistant. Hence, even if you get caught up in the rain, the earbuds will not get damaged. Also, you can keep one earphone in the case, and the other in your ear. Thus, making it easier for others to understand you.
Key Features
The charging case of the item can be turned into a translator.
It has Bluetooth connectivity for smoothly establishing a connection.
Since the charging case is hard on the exterior, your earbuds remain well protected when they are not in use.
9. WT2 Language Translator Earbuds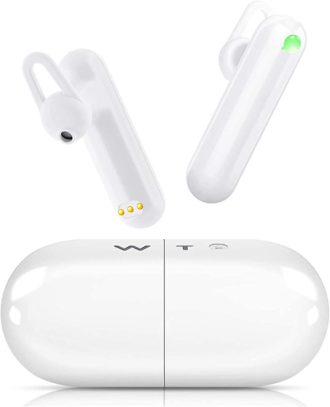 You might be often wondering, how handy it will be if you could have real-time translations of any language when you visit other countries. Well, with this product, that is now a reality. The product is designed with much practical sense. Therefore, it not only recognizes languages but even pays attention to as many as 93 different accents. It covers almost 85% of the entire population of the world. So, you will definitely be covered the next time you travel to a country where you cannot speak their language.
The earbuds also allow you to change between three different modes of the speaker, touch and simul owing to different needs. Finally, it goes with both iOS as well as Android devices, so you can buy it without any worries.
Key Features
This item being wireless is easier to carry as well.
It covers a 32-ft social distance that is massive.
The product makes use of the unique Automatic Speech Recognition technology.
8. Timekettle M2 Language Translator Earbuds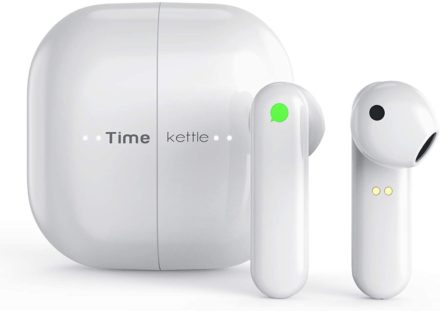 Timekettle has earned its reputation with the many earbuds for a reason. This being one of their best items, the product has proved its excellent quality by bagging the title of Bestseller on Amazon. You will certainly find what you are looking for as well. Furthermore, the product can be used for more than just a quick translation. Taking advantage of the Bluetooth 5.0 chip, the music blasting in your ears will be richer than ever.
Besides, it also improves the quality of sound on phone calls. The product can even perform some offline translations, in case you cannot make the best use of the network in someplace.
Key Features
Having a long life of 6 hours at one go; you are not running out of battery easily with this product.
It has an ergonomic design that will fit your ears properly and is fully sweatproof.
Because of the Qualcomm aptX present in the translator, the item provides incredible sound transmission.
7. JoveTrans Lite Translator Earbuds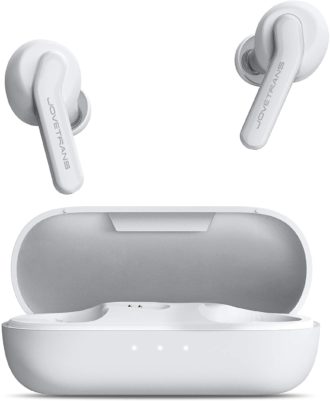 Even as normal earbuds, this product is impressive. Providing active noise cancellation like never before, the experience with this will be immersive. Besides, the product is accompanied by an application that can be downloaded on all devices. Therefore, you will be able to quicken your language learning skills with this item.
The ear tips on this item intentionally have two different sizes, so they click right into place. And it does not let anything penetrate through them. With the help of the app, you will be able to control the conversation or the interpretation mode.
Key Features
Welcoming more choices, this product is available in two different shades that you can pick from.
It is both dusts as well as water-resistant, lasting you for a long time without any issues.
The 10mm dynamic drivers further enhance the sound quality of the earbuds.
6. NIUJF Language Translator Earbuds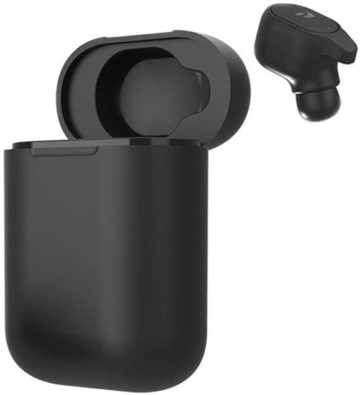 The wear of the earbuds is as important as its function. For that reason, this product pays special care to your personal comfort. The earbuds are feather-light, making it already much more convenient for you to wear for long stretches of time without feeling any fatigue. Besides, they have intentionally been given an ergonomic design. Hence, the pressure cannot easily build upon your ears.
If that was not enough, the thoughtful oblique in-ear design tries its best. As a result, the earbuds cannot come off of your ears at any time. It uses a combination of PC and ABS material, you can count on great impact resistance.
Key Features
You need to wait no more than 2 hours for the item to get fully charged in the 300 mAh charging case.
With the Bluetooth technology, you can go wireless it.
Once fully charged, the earbuds promise to last you for as much as 120 hours on standby.
5. Vbestlife Translator Earbuds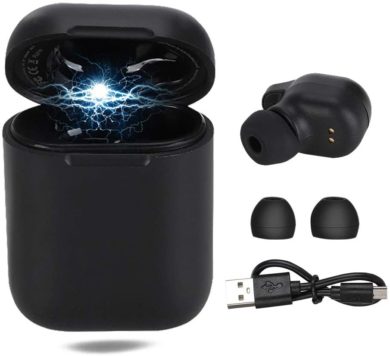 If you are on the lookout for some translation earbuds which are on the affordable side, you can go for this item. The product takes care of beginners as well. For the ones who are not so tech-savvy, the earbuds come with a helpful user manual. It guides you through all the functions of the item. Moreover, you even get an extra set of ear caps, in case you end up losing the first one, or it gets tattered with long usage.
For identification and accurate listening, these earbuds sport a built-in high sensitive signal analog microphone too. As a matter of fact, it can translate into up to 33 different languages and anyone can understand it in their preferred language.
Key Features
The design is especially suited for human ear structure, to provide the utmost comfort.
The item is extremely light weighing no more than 4.2g.
Being very compact, you can easily keep it in your pockets when the product is not being used.
4. FosaTranlator Earbuds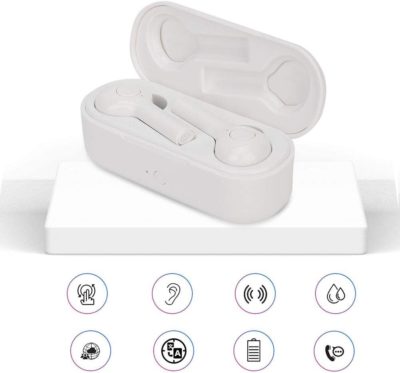 Innovation has a new name with Fosa. Each earphone in the product can be used independently. This means, which you can connect both the earphones to a device at the same time, even connecting one work just fine for operation. Also, this product has a 110mAh battery. Hence, the endurance is noteworthy on this product. You can count on a good 180 hours of standby time with these earbuds.
Besides, since the rotary storage bin is provided, you do not have to worry about running out of charge. Since the product is wireless, you can now practice your language skills effortlessly even while running.
Key Features
You get to choose from two varying colors of black and white in this product.
Carrying the case allows you to have a quick charge anywhere you go.
High performance 5.0 chip lets you transfer data pretty quickly, play music without interruption, and translate to 33 different languages.
3. Cjc Language Translator Earbuds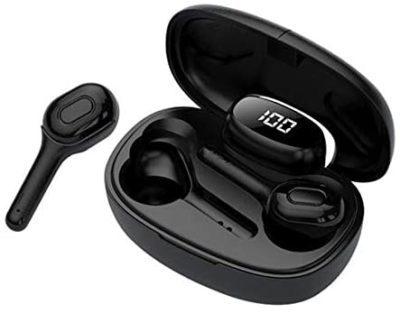 Ordering your food, or asking for directions in a foreign country cannot get easier than this. The product can translate everything in real-time with its voice recognition skills. As a result, you can smoothly carry out a conversation with your new friends. Moreover, this item also has a LED light display. Because of this, you can view the battery status of the earbuds anytime and never run out of battery in the middle of something.
Besides, the product has IP64 waterproofing. This means whether you get drenched in rain, or sweat, nothing will happen to your earbuds.
Key Features
Even the USB cable required to charge is added to the package for keeping your device ready always.
In order to take away all your apprehensions regarding the quality, the earbuds come with a 12-month warranty.
From HSP to HFP, to AAC and more, this product supports almost anything.
2. Pomya Language Translator Earbuds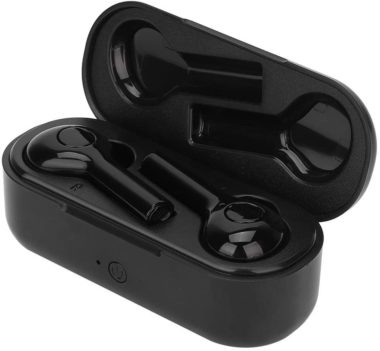 The product aims at making the earbuds as user friendly as possible. Therefore, with one simple key, you can control everything without any hassle. Furthermore, with as many as 33 languages in its pocket, the earbuds make communication in any language much easier. Well, it is possible whether that be through call or face to face.
The earbuds make use of the latest 5.0 Bluetooth technology chip. This is known for its crisp clear sound quality, making sure there are no glitches during your call. Finally, it makes you wait for no more than 2 hours to charge for hours of enjoyment.
Key Features
It switches freely between 3 translation engines for smooth operations.
The item even has a lock screen translation.
1. Ciglow Translation Earbuds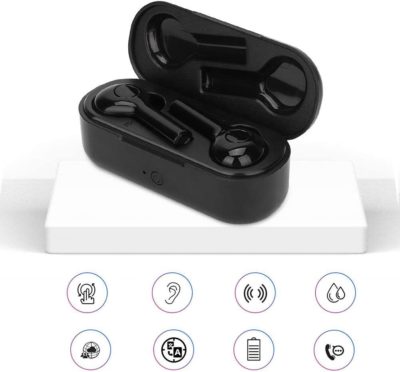 Staying stuck to your device is probably the hindrance of most devices that run on Bluetooth. This item allows you along with 32.8-feet transmission distance. It is without any breakage in the signal or compromises with the sound quality. More than that, the product comes with its very own charging case, which is really compact. Hence, you can keep your earbuds stored safely while you are traveling.
Since the case is a hardcover, your earbuds stay safeguarded from any possible impact as well. The 4D stereo sound gives you an experience like never before.
Key Features
The ergonomic design does not put any pressure on your ears, allowing you to wear it for a long span without any problem.
The headphones provide a binaural translation for uninterrupted services.
Like any normal earbuds, you can also enjoy music, or answer calls through this product as well.
How does IP64 waterproofing help in language translation earbuds?
Imagine getting caught up in the rain, without any possible shed nearby. During such scenarios, your earbuds may get damaged instantaneously. Although, with waterproofing, you do not have to worry about such things. Even if you can avoid the rain, the sweat from running, or cycling often damages normal earbuds too. With this product, your earbuds remain protected during such scenarios as well. Besides, the IP64 protects your earbuds from other elements like dust as well, increasing the longevity of the product.
Which is the best language translation earbuds for learning accents?
For most earbuds, they only offer you tons of languages that you can browse through. Although, for the WT2 earbuds, you can even count on as many as 93 different accents, so your earbuds can truly help you when you need to converse with the native of any country. The 93 accents provided cover almost about 85% of the world population, so there is a very thin chance of ever being in a region, where you do not have a language master with yourself already.
What functions does the charging case of language translation earbuds have?
The primary function of the charging case is to of course charge your earbuds, most of them performing the job in less than 2 hours. Although, it can also perform translation functions. The case can be used as a translator by keeping one earbud in the case, and the other in your ear, thereby, not only letting you understand others more easily but also helping others to understand you without any miscommunication in the way. Not to mention, the charging case also acts as a great storage space, so that, you do not forget your tiny earbuds and misplace them somewhere. Besides, having a sturdy exterior, the case will protect your earbuds from any type of damage, or impact.
Final Verdict
Be it in your own country or any foreign land, the Bluetooth language translation earbuds will let you attain clarity. So, interact with people in any language without any interruption.